Introduction
Clearwater's approach to stewardship is simple: get people out on the river and they will be inspired to protect it. The sloop is the key tool to fulfilling this mission. Every year, we take roughly 10,000 students sailing. Many of them tell us decades later that the experience changed them profoundly, offering a new perspective on the Hudson and an insight into its magic. Over the course of fifty years, we have taken roughly half a million students sailing, and we hope to keep doing so indefinitely. This same time period has seen drastic improvements in the health and care of the Hudson. There are other sailing education programs out there, but none have operated for as many years or as consistently as Clearwater's.
Keeping a wooden sailboat in operation is a complex and costly undertaking. It is often said that a boat is a hole in the water into which you pour money, and that's in reference to  modern boats with fiberglass hulls and metal spars. The Clearwater, though, is modele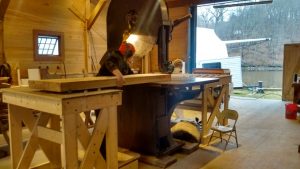 d after and built as an 18th century cargo vessel, which were designed to last a few years and then were scrapped and replaced rather than repaired. Keeping Clearwater sailing every year for fifty years, without significant interruption or change of ownership, is a level of fiscal and practical stewardship unsurpassed in the tall ship industry. Many other tall ships have changed hands, been scrapped, or permanently moored to become restaurants and tourist attractions. We are deeply committed to keeping Clearwater on course. There is still work to be done.
We maintain Clearwater with materials and methods that minimize our impact on the environment. We do so while working closely with the Coast Guard to ensure the Clearwater exceeds stringent safety standards and operates smoothly in the busy waters of the Hudson River. This has always involved costly repairs and upgrades, starting with a pre-construction redesign to meet new stability standards. Over time, it has involved new radios, fire protection systems, and enormous quantities of new wood, paint, caulk, and other materials. We strive to always perform maintenance well ahead of Coast Guard requirements, which in turn are designed to keep passengers safer than those anywhere else in the world.
Past Maintenance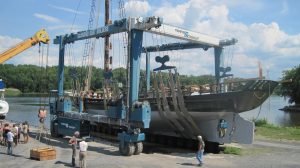 A wooden boat in freshwater, Clearwater has always needed constant care and maintenance, and especially so in the past decade. During this time, Clearwater has had three major restoration projects. It began in the winter of 2009-2010. Known as the "Bow Project," all the planks below the waterline in the forward third of the vessel were replaced in addition to many heavy timbers, including the horn timber, the shaft log, and the rudder post. In 2012-2013, the Stern Project did the same for the aft third of the vessel. The midships planks and the centerboard trunk and its bedlogs were replaced in 2015-2016, completing a huge milestone in the restoration of the sloop.
Current Maintenance
The Clearwater is ready for another large project. In the winter of 2021-2022, the boat will be again hauled out of the water and placed on a barge for the better part of six months. This project will concentrate on parts of the vessel not yet addressed in previous restorations. The work will be above the waterline from the chain plates forward. All the planks and frames including the top timbers and stanchions will be replaced. We estimate this will involve close to 60 planks and 100 futtock frame sections.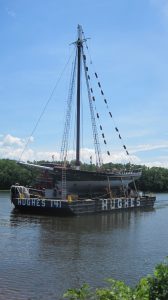 This winter's project also involves removing the mast and rigging to expose additional areas of the boat that are normally inaccessible. We are required to remove the mast every ten years because it must be inspected by the Coast Guard. While this mast has passed every prior test with flying colors, it will need to do so again in order to avoid replacement. Removing the mastwill allow us to inspect and repair planking, framing, bulwarks, and rails from the stem to aft of the chain plates.
Another area of concentration will be the transom above the waterline. Although we have replaced a number of frames here over the years, we will be doing a major overhaul there this time around. This includes replacing all the planks and frames adjacent to the transom. We will also take the opportunity to complete the inspection of structural fasteners (e.g. bolts) as required by the Coast Guard.
While we already know certain areas will need to be replaced, the exact extent of the heavy timber repairs cannot be fully known until they are properly inspected. With the vessel so deeply open, we will take the opportunity to replace any parts that won't weather the next decade. Clearwater's aggressive approach to maintenance  not only continues to keep our sloop sailing but also enables us to cultivate the next generation of environmental advocates and some of the best shipwrights around.
If you'd like to help us with this work, donate now!
Clearwater outreach from Jodie Childers on Vimeo.
More Ways to Give
I'm ready to give, but don't have a large contribution in my budget this year…
Send Us What You Already Have 
Some helpful items you can send to the office:
Power or Hand Tools (new or gently used)

Work Gloves (cotton or durable leather in quality condition)

Hand, Nose, Ear, Eye Protection (N95 Masks, Boxes of Nitrile Gloves and Earplugs, Noise Cancelling Headphones and Goggles/Glasses)
Purchase New  Items 
Send us items directly using our
Amazon Wish List
or
use the list to pick up items
from your local hardware/marine supply store and have them shipped to our office at 724 Wolcott Ave.,  Beacon, NY, 12508.
(Please note the exact name and description of each item to make sure the sloop gets what it needs.)
If you're donating something from your home please contact the Port Captain at portcapt@clearwater.org first to arrange your donation.
Remember, it takes a village to raise a sail.
As a nonprofit and a working wooden sloop, we rely on supporters like you to keep the Clearwater sailing.  
Anyone can support the sloop, wherever you are and whatever your budget.
Donations are tax deductible, and a charitable donation tax receipt will be issued at the time of donation.
Previous Maintenance Projects
The Sloop has been undertaking a steady stream of winter maintenance projects for the last two decades. Read about some of them here.