Fall is here and you know what that means – Pumpkin Sail! 
Clearwater is excited to announce the return of Pumpkin Sail to the Hudson Valley with dockside events through the month of October. Join the Sloop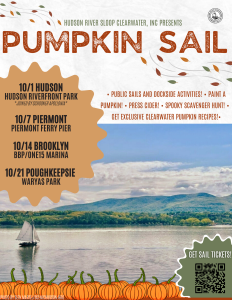 Clearwater at riverfront parks for a celebration of the harvest time and a tribute to river communities that will be fun for the whole family.
Each Pumpkin Sail venue offers deck tours and dockside programs for the community that will include pumpkin-themed activities. For $5, paint a mini pumpkin and get access to a digital download of our pumpkin-themed cookbook. The launch event will take place on October 1st, 2023 in the City of Hudson, NY at 4:00pm for an autumn celebration and Fish Fry hosted by the Hudson Sloop Club in Henry Hudson Riverfront Park.
Folk singer and Beacon, NY resident Pete Seeger spearheaded the effort to build the sloop, which first sailed into the Hudson River in 1969 as a platform of grassroots advocacy. Voyages transporting pumpkins from Albany to New York City, coupled with riverfront autumnal celebrations became known as "Pumpkin Sail," in 1971. 
These days, we're leaving the sail freight to Sam Merrett and Schooner Apollonia. Hudson River Sloop Clearwater, Inc. remains focused on environmental advocacy in Hudson Valley communities that inspires lifelong stewardship of the living river. 
See you down at the river on October 1st, in Hudson; October 7th in Piermont, October 14th, in Brooklyn, and October 21st in Poughkeepsie!
To support Pumpkin Sail, donate now!
Any donation of $5 or more also gives you exclusive access to a digital download of our pumpkin-themed cookbook,"Pumpkin Crazy," originally released in 1972 with a handwritten foreword by Pete Seeger.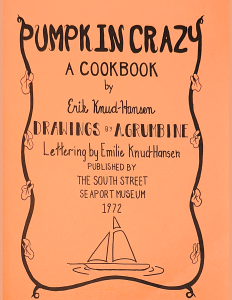 Pumpkin Sail crafting, c. 1980's, from the Clearwater archives