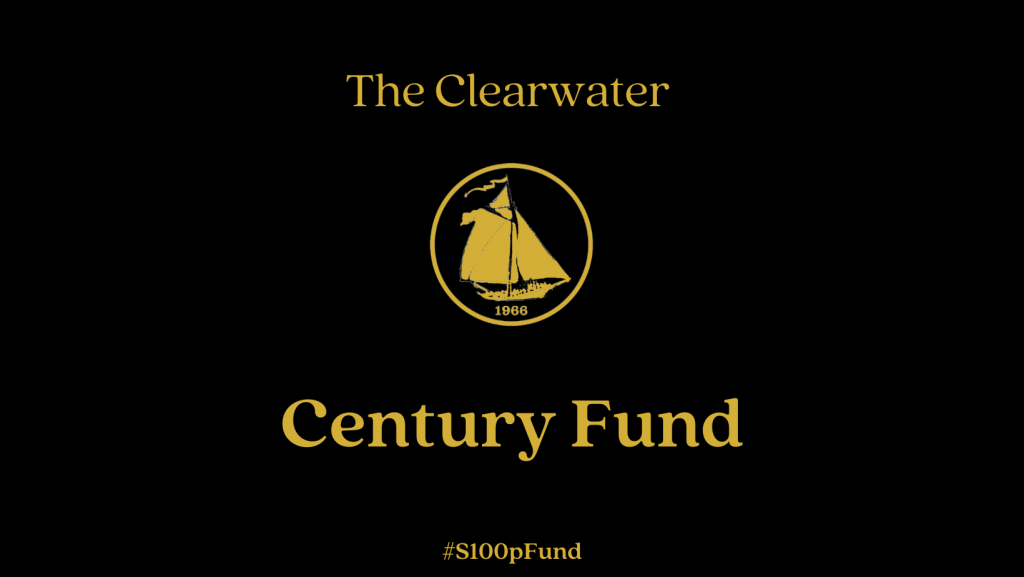 The Century Fund is a board-directed perpetual fund to support the ongoing and future maintenance of the iconic sloop
Clearwater.
This fund will ensure
Clearwater's
vitality and presence on the river for generations to come. 
The Century Fund's initial fundraising target of $600k will cover the cost of Clearwater's 2021-2022 winter project, which will focus on the restoration of the sloop's "topsides." Prudence also dictates that Clearwater look beyond this coming winter.
The Century Fund will provide a steady stream of designated funding into the future.
This overhaul is part of a planned series of extensive maintenance projects conducted roughly every five years to ensure that
Clearwater
remains stout and well able to carry out its environmental education mission for decades to come. To learn more about this winter's work, as well as past projects,
click here
.
Inaugural gifts to the Clearwater Century Fund campaign will help cover costs of this winter's work, 75% of which will be reimbursed from a grant from the New York State Office of Parks, Recreation, and Historic Preservation. Following this winter's restoration work, the Century Fund will remain a revolving fund that will provide needed financial stability for the organization.
Donations to support Clearwater's initiatives can be made at www.clearwater.org/donate.
Like an old house, a historical wooden tall ship requires regular maintenance and love. Every year the Clearwater's Captain and crew perform regular maintenance over the winter months to keep the sloop seaworthy, in compliance with Coast Guard inspections, and generally in tip-top shape.
Clearwater must continue to seek support from all who love the river and the sloop and its mission, asking them to invest in the boat's future according to their means. We hope that we can count on you to make a contribution to this critical project.
"And we who would join in
Can stand aside no longer
Now let us all begin!"
These lyrics originally heard in Pete Seeger's "Of Time & River Flowing", are now being echoed by Reggie Harris in his beautiful and moving new music video for "High Over the Hudson", an homage to Pete. We urge you to take to heart these words and consider donating to the Century Fund.
Leadership Gifts
Anonymous

Jeau Eckert Trust

OPRHP

New NY Bridge Community Fund
For more information about leadership gift giving, please contact devdir@clearwater.org.
More Ways to Give
I'm ready to give, but don't have a large contribution in my budget this year…
Send Us What You Already Have
Some helpful items you can send to the office:
Power or Hand Tools (new or gently used)

Work Gloves (cotton or durable leather in quality condition)

Hand, Nose, Ear, Eye Protection (N95 Masks, Boxes of Nitrile Gloves and Earplugs, Noise Cancelling Headphones and Goggles/Glasses)
Purchase New Items 
Send us items directly using our
Amazon Wish List
or
use the list to pick up items
from your local hardware/marine supply store and have them shipped to our office at 724 Wolcott Ave.,  Beacon, NY, 12508.
(Please note the exact name and description of each item to make sure the sloop gets what it needs.)
If you're donating something from your home please contact the Port Captain at portcapt@clearwater.org first to arrange your donation.
Remember, it takes a village to raise a sail.
As a nonprofit and a working wooden sloop, we rely on supporters like you to keep the Clearwater sailing.  
Anyone can support the sloop, wherever you are and whatever your budget.
Donations are tax deductible, and a charitable donation tax receipt will be issued at the time of donation.