One of Clearwater's greatest assets are our enthusiastic volunteers. The Clearwater volunteer program pulls together a diverse group of individuals who contribute a unique perspective and energy to our education program and onboard community.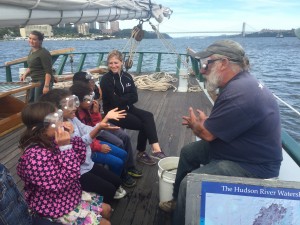 Clearwater accepts volunteers mid-April through October to live onboard for a week and help run our education programs. In addition to teaching, we depend on our volunteers help with chores, sailing, and public relations.
A $125 volunteer fee offsets the cost of food, a volunteer t-shirt, instruction, and helps support our Youth Empowerment Programs. We provide volunteers with a full day of training from our professional crew to prepare everyone for a week packed with sailing, fishing, teaching, and learning.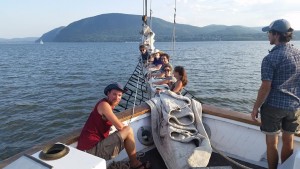 Clearwater looks for volunteers with a passion for teaching and ability to lead small group activities. You don't need previous sailing experience, but a background in teaching, environmental issues, music or earth sciences are a plus.
You must be at least 18 years of age to volunteer, be in reasonably good physical health, and be able to commit to a full week on board the boat. If you are under 18 and interested in sailing, please explore our Onboard Youth Volunteer (apply online or download the application) and Youth Empowerment Programs
Volunteering aboard the sloop may not be for everyone; living conditions are rustic, privacy is limited and our work days are long.
If you are interested in spending an unforgettable week sailing and teaching aboard Clearwater, fill out an application and one of our educators will call you for a short interview:
Volunteer Application (pdf)
Volunteer Application (online form) 200 word limit on answers
Check out our volunteer resource page for information about our schedule, dock directions, what to pack, and lots of education materials.
*Note: In an effort to ensure the safety of everyone onboard the boat, Clearwater will run sex offender background checks on all potential volunteers prior to their acceptance.