Thank you for your interest in a Hudson River Sloop Clearwater Education program! The Sloop is entering our final period of a multi-year, multi-phase maintenance project, so we will NOT be sailing in September and October of 2021. In the meantime, check out our in person programs: Tideline Programs and virtual program offerings: Clearwater Connects. We will begin accepting applications to sail in Spring/Summer 2022 in February. Thank you for you continued support, we can't wait to see you all out on the river next year! All inquiries about educational sails should be sent to educator@clearwater.org. 
---
The centerpiece of Clearwater's education program is the Sailing Classroom program. The deck of a traditional sailing ship is a uniquely powerful platform for students to learn about the river's natural wonders and cultural significance. For many, this is the introduction to the Hudson River and environmental education that can forge a connection with nature to last a lifetime.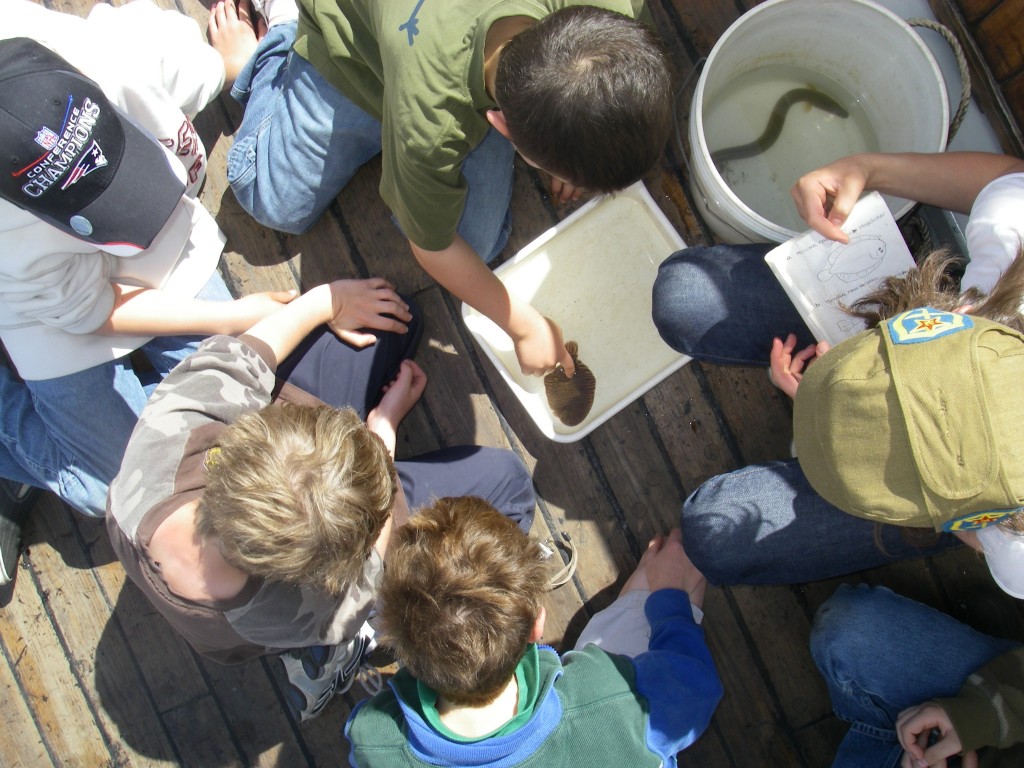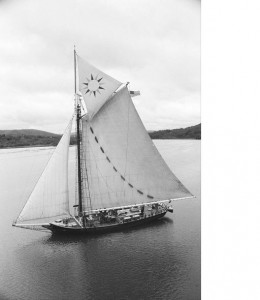 Launched in 1969, the Clearwater is a replica of the Dutch vessels that sailed the Hudson River in the 18th and 19th centuries.  At 106 feet long and 108 feet tall, this sloop (single masted sailboat with fore-and-aft rigged sails in front of and behind the mast) currently serves as a platform for environmental education and advocacy, reaching about 10 thousand students in grades 4 through 12 each sailing season.
Read more about the specifications of the sloop.
During a typical program onboard the sloop Clearwater, students have the opportunity to:
Set Sail – use their bodies and brains together!
Steer the Ship – under the watchful eyes of our captain!
Explore the River – examine live fish, perform water-quality tests,  and discover history!
A Sailing Classroom program aboard the sloop Clearwater scheduled from 9:00 am to noon follows the below approximate schedule.
Timing and activity availability is subject to actual conditions.
Time
Activity
8:45 am
Group Arrival
9:00 am
Introduction Circle
Form Small Groups
9:10 am
Boarding
9:15 am
Captain's Safety Overview
9:20 am
Group Activity during Dock Departure
9:35 am
Fishing
9:55 am
Raising sails
10:15 am
Group Activity
10:25 am
Station 1
10:40 am
Station 2
10:55 am
Station 3
11:10 am
Group Activity
11:30 am
Station 4
11:30 am
Station 5
11:45 am
Group Activity during Return to Dock
11:55 am
Disembarking
12:00 pm
Group Departure
Age Range: 4th Grade and up, including post-secondary (college & university), continuing education, and life-long learning groups
For safety reasons Clearwater cannot accommodate groups younger than fourth grade. Please consider a Tideline Discovery Program for your younger group for a land-based educational program featuring Clearwater's award-winning curriculum.
Capacity: 25 passengers, regardless of age or type of participation (subject to change based on prevailing pandemic guidelines).
Clearwater is inspected by the United State Coast Guard.  The passenger capacity of the vessel is determined by the Certificate of Inspection.  Groups bringing more than fifty passengers will not be permitted to bring all individuals onboard.
Groups in grades 4 through 12 must be accompanied by at least one chaperone 18 years of age or older.
Location: The Hudson River between New York City and Troy at a variety of docks, depending on availability
Length: 3 hours
Programs as short as 2 hours may be arranged, but the content of the program will be diminished.
Longer programs are available for an additional fee.
Keep in mind that we are not able to accommodate lunch onboard during sails less than 4 hours in length.  Please plan on having lunch before or after boarding the sloop.
Cost: 
Grades 4 to 12
Duration
List Price
2 to 3 hours
$1500.00
Each additional hour
$750.00
Post-Secondary
Duration
List Price
2 to 3 hours
$2000.00
Each additional hour
$1000.00
Payment is due 4 weeks prior to your program unless other arrangements are made with the Vessel Logistics Manager, email sail@clearwater.org or call 845-265-8080 ext. 7107.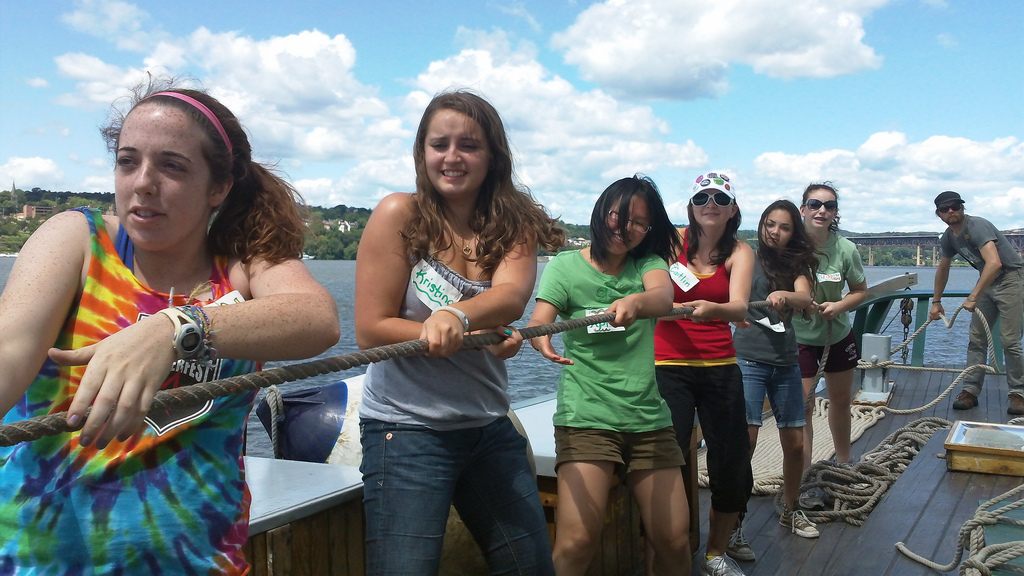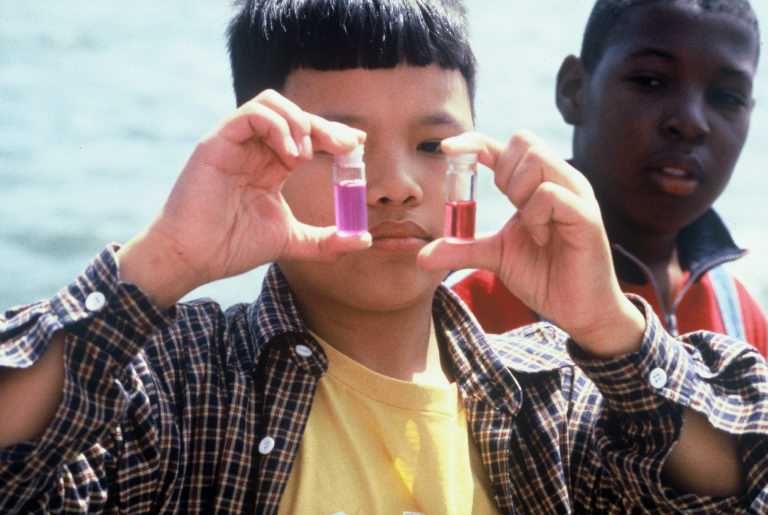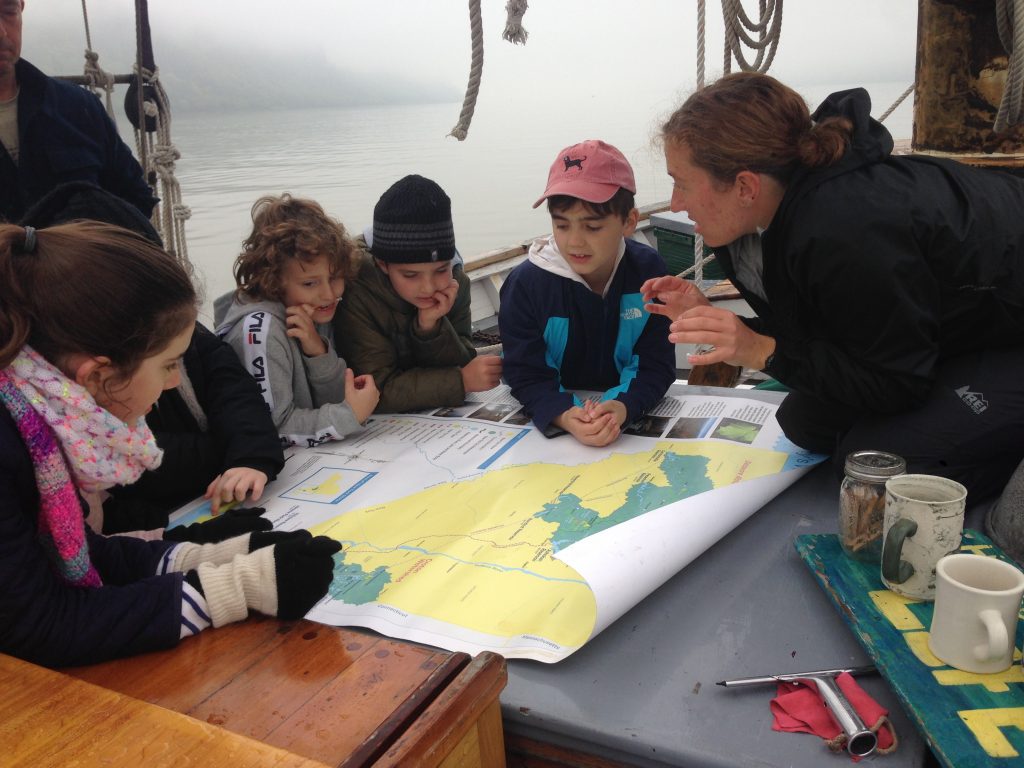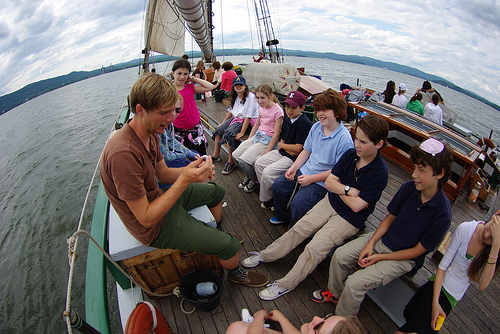 Submit your application through the Group Sail Application.   A confirmation email will be sent to you to confirm your request or booking and our Vessel Logistics Manager will contact you to propose sail dates.
Please submit only one application for your group. If you are concerned that your application was not received, please email the Vessel Logistics Manager at sail@clearwater.org or call 845-265-8080 ext 7107.
Every voyage on the Clearwater is unique and exciting due to the shifting winds and tides of the Hudson River, the variety of docks we visit, the surprises we pull up in the fishing net and the individuals we bring aboard. We are always able to provide a top-notch educational program, in part, because of the ever-changing learning environment the Hudson River presents. Educators, captains and crew all gain inspiration from the unexpected bird flying overhead, passing river traffic, the ever-changing skyline and the specific interests of our passengers.
After forty years of environmental education on the Hudson River, much of Clearwater's curriculum has been honed to perfection. Within our educational model we have the flexibility to cater to some of your specific interests. We love to focus on a particular theme or topic which you have already been studying or to which you would like an introduction. Please take a look at the following options for themed sails to see if there is one that might be an exciting match for your group.
Classic Clearwater Sail
This option allows the onboard educator to design a theme that draws from the strength and passion of the crew teaching onboard that day, local geographic or historical points of interest to been seen during the sail or a current environmental issue developing on the Hudson River.
Onboard Learning Stations
Learning Standards
History
(History/Anthropology/Geoscience)
Take a trip through time aboard this historic vessel. Learn about the glaciers that formed this mighty river, the Native Americans who once populated the valley, Henry Hudson's famous exploration and the other communities who have formed a deep connection with the Hudson River. Students look through history and learn who has made their mark on, or been inspired by, the land and waters they can see from the decks of Clearwater.
Onboard Learning Stations
Learning Standards
SS1, 2, 3

MST1, 4, 5, 6, 7

HPEFACS2
Watershed Ecology
(Ecology/Geography/Community)
From the Adirondacks to the Atlantic Ocean, the Hudson River is the path by which people, plants, animals, nutrients and pollutants are all linked. Learn about how the watershed you are sailing on works, what makes it so unique and how you are part of this dynamic ecosystem.
Onboard Learning Stations
Learning Standards
Sailing and Transportation
(Physics/Transportation)
Learn about how this historic vessel is able to harness the power of the wind to travel up and down the river. Understanding the physics and simple mechanics of sailing a ship are exciting with the wind on your face and the waves rushing past. Explore how transportation of goods on the Hudson River has changed dramatically since the 1800's when sloops like Clearwater dominated this waterway.
Onboard Learning Stations
Learning Standards
Art and Music
(Art/Music/Poetry)
Thousands of people have been inspired by the beauty of the Hudson River and surrounding landscapes. Learn about the painters, musicians and writers who have enriched our lives with their creation and exercise your artistic expression onboard the Clearwater, a boat built with music.
Onboard Learning Stations
Learning Standards
SS1, 2, 3

MST1, 4, 5, 6

ARTS1, 3, 4
Participants who engage in activities to prepare for and follow up to their Sailing Classroom experience are more engaged in during the program and retain more afterwards.
A 3-hour educational group sail costs $1,500 for K-12 groups and $2,000 for post-secondary groups. This includes all costs associated with our boat-based educational programs. Transportation costs are the responsibility of the group.
Clearwater trips may be eligible for the following assistance programs:
Clearwater is able to offer a limited number of partial scholarships to schools and youth groups in under-served and environmental justice communities. Contact our education staff for further information.