Sloop Scoop 7: Planks, Planks, and More Planks
The sloop is getting sealed back up with new planks, each day a little closer to being water-ready. Here are a few of the key steps in making that happen:
After the frames are in place, it is time to plank. Planks are the long timbers that make the shape of the hull. In order to get the planks to form to the smooth, curved shape of the frames, they spend two to three hours in the steam box where propane heaters force gallons of water into the small space, heating and soaking the wood. After a while in the box, a plank becomes a wet noodle (or close to it!) and the crew is able to bend and twist it into place.
The planks are fastened into place with metal boat spikes. The heads of these fasteners cannot be left exposed to water, so they are covered with bungs. First the spikes are pounded in, recessed into the plank. Next circular wooden plugs are cut with a drill press (shown right). They are installed over the spike heads and then leveled out for a smooth surface.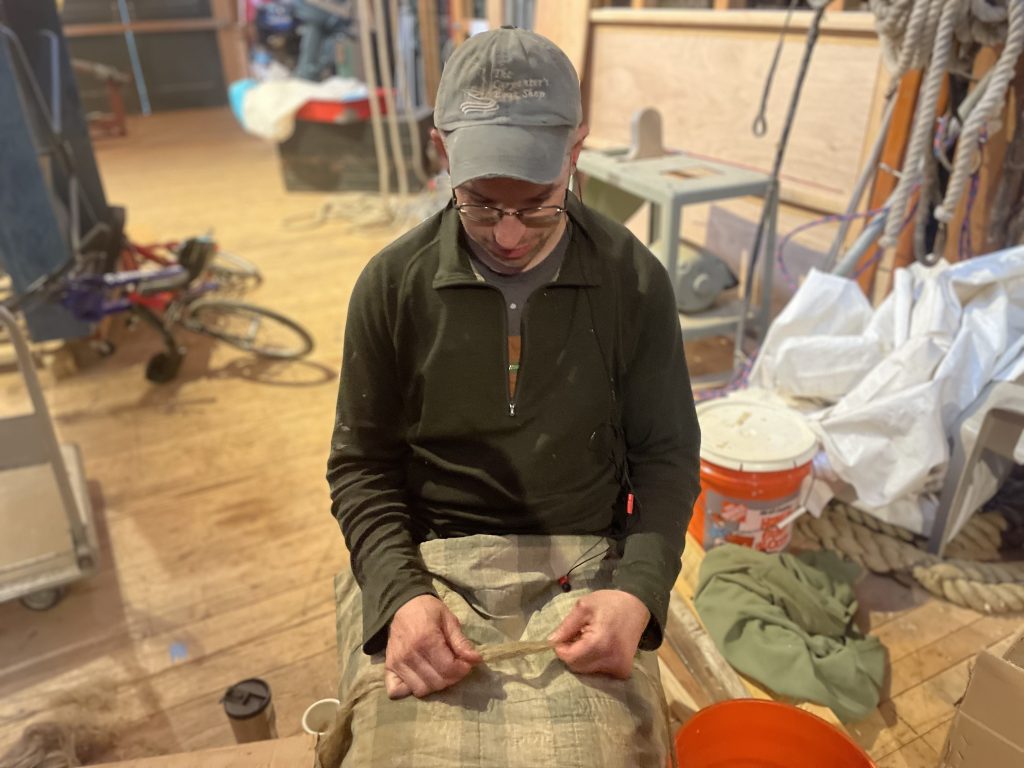 After the planks are in, the spaces in between them must be filled. First, cotton is pounded in, filling the in-between space. Then, oakum, a rough, oily fiber, is beveled into the same spaces in a process called "caulking." While oakum is water resistant, cotton is not. The oakum keeps the water well away from the cotton. This process wedges adjacent planks apart with a tight seam while simultaneously wedging all the other planks more tightly together. When done correctly, this creates a dry seam that planks expand into, keeping the water out of the boat. When the boat returns to the water, the planks swell and tighten the seams even more. Oakum arrives in a tight roll of uneven fibers. It must be thinned out, rolled, and evened before it can be installed.
Shipwright Spotlight: Dylan Kane
Dylan joined the sloop in the winter of 2015. His can-do attitude was quickly noted and he was immediately thrown into some of the "least desirable jobs" like chipping out the old bed logs from the centerboard trunk. But soon he got to do some "cool stuff" like drill out holes for keel bolts and fasten planks with seasoned shipwrights – he was hooked. Turns out starting in the winter sped up his career as a shipwright. In addition to joining the Clearwater for winter projects and the sailing crew as deckhand, engineer, and go-to-guy, Dylan used his shipwright skills on the Gazela and Ernestina. Dylan works on Clearwater because he likes the mission. Why preserve an old wooden boat if it's not going to get used? He believes that the environment is so conducive to learning. "All these kids get to come out sailing and they learn so much. Anyone can come here to learn any of this stuff. I know I did…and it makes me want to come back and be a part of teaching more people while I keep learning."