Join us on board the sloop Clearwater, a majestic replica of the cargo sloops that traveled the Hudson River in the 18th and 19th centuries and a nationally recognized symbol of environmental awareness! We sail from a variety of docks from Albany to New York City and will be starting our season at the end of May, 2022. We can't wait to see you all out on the river this spring!
---
*NOTE* A credit card is required to reserve a charter, but will not be charged until you have authorized us to do so.
You may still pay with a check or purchase order at a later date.
A basic sail program is 2-3 hours long, with 5-hour sails and extended programs also available.
Sails are added on a rolling basis, so if you do not see a date that you want on the calendar, keep checking back for updates! You can also receive updates by signing up to receive our emails or by following us on Facebook and Instagram.
Questions? Email sail@clearwater.org
---
Private and Corporate Charters
Charter America's environmental flagship for your next special event. Sails on the Clearwater are available for private parties, weddings and corporate events. Sails can be customized to help you create a special event that energizes and re-connects your group, while providing your participants with an unforgettable, hands-on experience of the Hudson River. Apply now!
Public Sail Adventures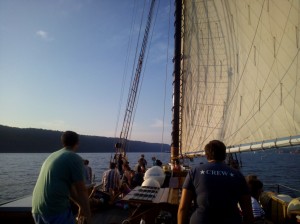 Enjoy a relaxing two-hour sail aboard America's Environmental Flagship. Sailing from docks up and down the Hudson River, experience the beauty of the river in the company of family and friends. Each sail is a journey to fully realize the beauty of the Hudson River Valley, Tall Ship sailing, and local environmental concerns.
  Purchase tickets or gift certificates for a public sail. 
Cancellation Policy
If you need to cancel or reschedule the activity for any reason or have any questions, please call (845) 265-8080 ext. 7107 or email sail@clearwater.org and the Sail Logistics Coordinator will help you.
Cancellations made by the passenger less than 24 hours prior to the scheduled start time of the activity will result in the forfeiture of the total amount of the booking fee. No exceptions.
Rescheduling a reservation will result in a $2.50 surcharge.
Traineeships and Volunteering
Join Clearwater's crew for a week, a month, or longer as you develop your skills as a sailor and environmental educator. If you would like to help protect the Hudson River, meet other like-minded people, contribute to an organization you believe in, and improve your resume and life experiences, then Clearwater has great volunteer, apprenticeship, and internship opportunities for you aboard our historic sloop and renowned "floating classroom." No experience is necessary for these once-in-a-lifetime opportunities to deepen your involvement with Clearwater and the river.
Frequently Asked Questions