The Clearwater's yawl boat is getting a fresh coat of paint this winter – and a new name,  courtesy of some clever contest winner, who could be you! Take a look at this beautiful baby (now at the Home Port in Kingston) and send us your suggestions for her new moniker. (Email: Commun@Clearwater.org or post on Facebook or tweet us.)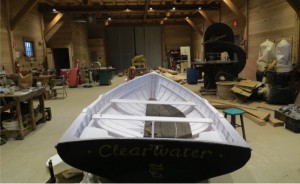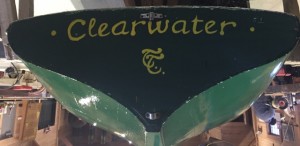 Your new name will replace the word "Clearwater" on the yawl, although "T.T. Clearwater" will appear in small letters elsewhere, as required. It signifies "tender to Clearwater," meaning the small boat belongs to the sloop.
There are no pesky rules for this naming contest. But there is a deadline: GET YOUR NAMES IN BY MARCH 19.  A committee composed of the Clearwater captain, crew and various staff members will select the new name on March 20, and it will be unveiled at the final Open Boat gathering of the winter on Saturday, March 21, at the Home Port & Education Center, 50 Rondout Circle, in Kingston (3:00-7:00 PM). The sailing season begins with an onboard volunteer training day April 12 in Kingston.
Note: The yawl is only about 4 feet wide. Given its dimensions, the ideal name for her would have a maximum of 12-15 characters.