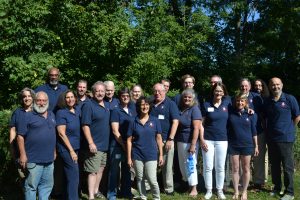 BEACON, NY – At Clearwater's annual membership meeting held on Sunday, September 24th, nine new Clearwater board members were elected to serve on Clearwater's board of directors for a three-year term. Clearwater board members play key creative roles in fundraising, event planning, program development, financial management, public relations, project management, and serve as spokespersons and ambassadors for the organization.
Among the new board members are: Environmental Justice Activist and Sierra Club's 57th National President, Aaron Mair, Attorneys Beth Levine and Henry Neale, the Psychosocial Director of Camp Sunshine (a retreat for families of children with life-threatening illnesses) Nancy Cincotta, sustainability expert Kyle Rabin, WFUV sound engineer and producer Jeremy Rainer, New School environmental policy and sustainability management student Taylor Vogt, writer and journalist Joan Gaylord and long –time Revival (Clearwater Festival) Planning Committee Coordinator Peter Capek.
Returning for her third term, Attorney Robin Schlaff was re-elected to serve on the Executive Committee along with Ban Fracking cofounder Don Raskopf, who will be serving his second term on the board.
"Our new board members are a welcome addition to our existing team" said Betsy Garthwaite, Clearwater Board President. "I am very excited to be working with this very dedicated group of people going forward."
Board member Aaron Mair was the keynote speaker at Sunday's annual meeting. Jon Bowermaster's recent film Restoring the Clearwater was screened at the meeting. Restoring the Clearwater is Bowermaster's latest film in the Hope on the Hudson series.
The Clearwater Annual Meeting provides members with the opportunity to participate in the vital function of electing board candidates into office. Clearwater members are a community of devoted individuals who work towards a brighter future through environmental advocacy, education and celebration of the Hudson River. Please visit www.clearwater.org to become a member. Clearwater members receive discounts on sloop Clearwater sailing tickets, admission to the Clearwater Festival, merchandise and many other benefits.