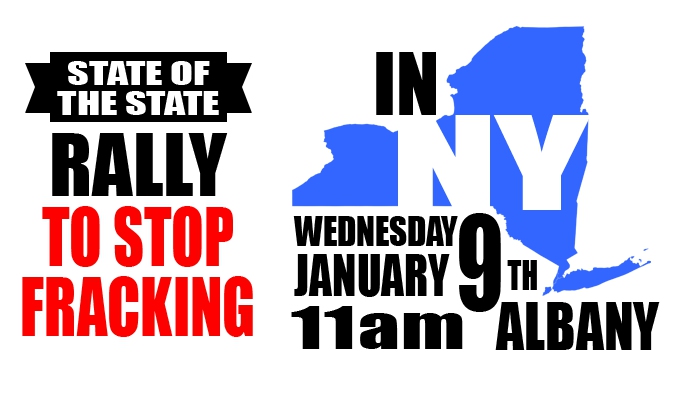 Wednesday, January 9, 2013
11:00 AM- 3:00 PM
Albany, NY
Inside the Concourse, by the entrance to The Egg
………………….
The New Yorkers Against Fracking coalition is calling on all New Yorkers to come to Albany for a rally to keep fracking out of our beloved state. Gathering to take place outside the annual State of the State Address delivered by Andrew Cuomo.
Special guest speakers include Singer Songwriter Natalie Merchant, Gasland's Josh Fox, Food & Water Watch's Wenonah Hauter, internationally acclaimed Author and Biologist Sandra Steingraber and more!
For information on buses and carpooling or general information about the rally, visit the New Yorkers Against Fracking website at http://nyagainstfracking.org/
Clearwater members and supporters are strongly encouraged to send comments on the Revised New York State High-Volume Hydraulic Fracturing Regulations to the NYS DEC via www.thirtydaysoffrackingregs.com by January 10, or directly to the DEC on the NYS High-Volume Hydraulic Fracturing comments page. Click here to submit comments to the DEC by January 11.