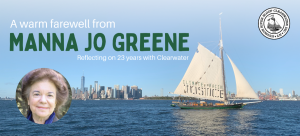 Dear Friends,
After nearly 23 years, the time has come for me to transition to a new chapter in my life. I hope to be spending more time with my amazing 5-year old grandson and working to teach climate science and possible climate solutions to decision makers and the community at large. I am deeply grateful to Clearwater for the opportunity to help carry forward the legacy of Pete and Toshi Seeger and the visionary founders of Clearwater.
After many years as a litter picker with Toshi, Faith, Andra, and many others at the great Hudson River Revival, I had the privilege of serving on the Clearwater Board of Directors for 2 years with other "insurgents" including Kate Herman, Don Kreis, Suzie Schwimmer, Myrna Ross, and Sarah Underhill under the wonderful leadership of then-President Len Polletta.
During my tenure, I have had the honor of working to help get the EPA to require General Electric to clean up Hudson River PCBs, to stop an ill-conceived desalination plant in Haverstraw Bay, to win protection for the bald eagle and other endangered species, and to help prevent the construction of the Pilgrim and other pipelines. Clearwater also embraced environmental and climate justice with excellent mentorship by Aaron Mair, filing a unique environmental justice contention in the relicensing of Indian Point.
Given the long list of Indian Point's operational failures and insufficient, aging management, Clearwater actively worked to prevent the second relicensing of these increasingly unsafe nuclear reactors located on the shore of the Hudson River 35 miles from midtown Manhattan. Closed in April 2021, we are now actively working to ensure its safest possible decommissioning and to prevent Holtec from discharging radioactive water into the Hudson. Clearwater also strongly opposes the expansion of a fracked gas power plant at Danskammer, just north of Newburgh.
In his famous hierarchy of needs, Abraham Maslow lists self-actualization as "the ability to become the best version of oneself." Clearwater has afforded me the opportunity to work on human rights, environmental protection, and community building utilizing the best science available and solution-oriented, collaborative processes to achieve amazing results. I am deeply grateful and honored by the trust placed in me to essentially do my life's work. And, of course, I plan to continue to help in any way I can. My deepest gratitude to the Board, Staff, and Crew of Hudson River Sloop Clearwater and to the many volunteers and interns I have had the privilege of working with over the years.
Please consider a donation to this wonderful organization in honor of my retirement. Your gift will help ensure Clearwater can protect and preserve the Hudson River and empower the next generation of environmental leaders.
In closing, I would like to share one of my favorite Pete quotes: "It's a very important thing to learn to talk to people you disagree with." Let's keep making good trouble. Onward.
Fair winds,
Manna Jo Greene