May 2023 EA E-News Update
Indian Point Update:  After huge public outcry, including two very strong letters from Senators Schumer and Gillibrand,  Holtec International moved the date to discharge radioactive water into the Hudson back to late August.  Here is a link to CW Comments to the Public Service Commission hearing on April 25.  What is now urgently needed is to see the Harckham-Levenberg Bill to prevent the release of radioactive water into NY waterways  passed and for Governor Hochul to sign it into law.  A great way to help is to join a May 16 Lobby Day in Albany or to simply call your State Senator and Assemblymember and Governor Hochul in support.  You can also help by joining a phonebank to push forward the Save the Hudson bill with other activists and constituents by being patched through to key Legislators' offices.  Or to sign Clearwater's online petition. https://forms.gle/6scTATSFE9jvYM7M6
Also, at a recent meeting with environmental leaders from his District, Congressman Pat Ryan strongly stated his opposition to the proposed Holtec release of radioactive water into the Hudson, and his support for federal legislation and funding for the Hudson River Watershed.  He is a cosponsor of the NY-NJ Watershed Protection Act.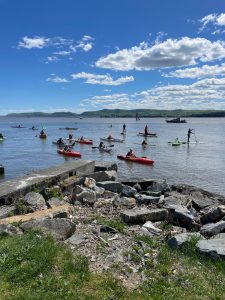 May 6 Rally and Flotilla:  Clearwater's Executive Director David Toman spoke passionately at this powerful gathering at the Town of Cortlandt Riverfront Park, joining about 300 protestors and 40 paddlers in a lively flotilla to oppose Holtec's plan to discharge over 1 million gallons of radioactive fuel pool water into the Hudson, and to call for a one year moratorium to find and implement a safer solution by storing it in robust, double lined tanks on site.  See:  Town of Cortlandt Rally at the River 
Summer Fairs and Festivals:  Volunteers are very much needed for tabling at Clearwater and other events – to share Clearwater information, encourage membership and donations and to strengthen Clerwater's presence throughout the Hudson Valley.  We will provide displays and tabling materials and train anyone interested in helping with this important form of outreach.  It's lots of fun and very worthwhile. Please contact office@clearwater.org for more information or to volunteer. 
Clearwater's recent Symposium: Drinkable, Swimmable, Fishable: Clearwater Celebrates 50+ Years of the Clean Water Act held on Friday, April 14, was a great success.  Big thanks to Jen Benson, who did the lion's share of organizing this superb event.  In case you missed it, or just want to zero in on a topic of interest, please click here for videos, presenter slides and excellent notes and resources.
Clean Water Infrastructure Act:  The NYS budget, which recently passed, provides another $500M for the Clean Water Infrastructure Act, bringing the state's total investment in clean water infrastructure through this fund to a total of $5B since 2017. Let's help our Hudson River municipalities to take advantage of the funding and use it wisely.to promote separating combined sewer systems, to upgrade aging storm and wastewater infrastructure, to protect streams and wetlands and to promote safe drinking water.
Hudson PCB update:  US EPA is now actively studying the Lower Hudson by developing and implementing a sampling plan in coordination with the NYS Departments of Environmental Conservation (DEC) and Health (DOH).   Fish advisories are still very much in place throughout the river from Hudson Falls to NY Harbor.  There has been some improvement – reduced PCB concentrations in fish tissue – in the Upper Hudson, but not yet in Lower Hudson, south of Federal Dam at Troy.  EPA is testing the Hudson River and it tributaries to the head of tide to determine concentration of PCBs in fish, sediment and the water column.  A 5-year review of the Upper Hudson is also underway.
Join EPA Lower Hudson Information Meeting: 

Wednesday, May 24 · 6 – 8pm EDT
      Reserve a spot:   Lower Hudson River Public Information Meeting – #usepa