Come join us at the Great Hudson River Revival Festival at Croton Point Park this weekend! As Clearwater's executive director, I'd love to see and talk with you there.
Remember that Clearwater is much more than an annual festival.
It's a distinguished nonprofit organization that for almost half a century has led efforts to clean and protect the Hudson River. It is the iconic sloop Clearwater, the vessel that provides 12,000 students each year with the inspirational experience of sailing and learning onboard as they relate to the environment. In education, music and advocacy, Clearwater fosters grass-roots community engagement.
At this year's Festival, while you're enjoying the incredible music and the vendors, exhibits and food, you will see signs and displays emphasizing awareness of the biggest challenge ever faced by the Hudson and the World – climate change. True to Clearwater's philosophy, we focus on local action to address this global issue.
Also, you should be aware that starting in the fall, the beloved sloop will be undergoing the most expansive maintenance project in its history.  We are scheduled to replace the wood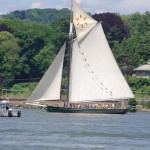 on most of the hull, a process that is likely to take us over seven months of hard work and will be very costly.
So, please do enjoy this wonderful celebration of music and the environment.  Please join Clearwater if you're not yet a member, and help honor Pete and Toshi Seeger's legacy by supporting our efforts in whatever ways you can.