Clearwater's new Build-a-Song anthem, "Don't Walk Away," will have its debut performances at the Great Hudson River Revival, June 20-21 in Croton Park.
Our Power of Song Apprentices will perform the new song three times this weekend, on various stages:
Saturday, June 20 – Sloop Stage – 11:00-11:40 AM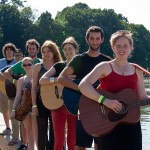 Sunday, June 21 – Circle of Song – 2:40-3:20 PM
Sunday, June 21 – Artisanal Food & Farm Market – 4:40-5:05 PM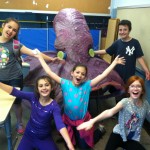 Also, Clearwater Music Director Linda Richards will perform with younger children from the Power of Song program in Saugerties on the Family Stage.  Sunday, June 21, 11:50-12:30 PM.
The "Dont Walk Away" song is the product of an innovative online participatory songwriting project that Clearwater conducted last spring.