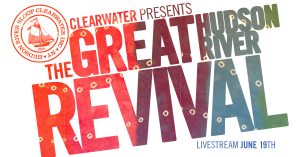 FOR IMMEDIATE RELEASE
April 7, 2021
Clearwater Festival to Return in 2021 As a Free Virtual Event
The Clearwater organization's annual fundraising event will be held online this year on June 19th
BEACON, NY — The Great Hudson River Revival (aka Clearwater Festival) will return virtually this year on Saturday, June 19th. The online fundraising event will continue the organization's decades-long tradition and community gathering normally held annually at Croton Point Park, NY.
This year's Great Hudson River Revival will be live-streamed from 11 am – 11 pm EST on June 19th on Clearwaterfestival.org as well as Clearwater's Youtube and Facebook pages. While The Great Hudson River Revival is free to attend, Clearwater encourages viewers to donate if they are able. All performances will be accompanied by ASL interpreters.
Donations can be made at http://bit.ly/TheGreatHudsonRiverRevival21.
The event will feature musical performers, storytellers, and activists, including: John McCutcheon, Tom Chapin, The Blind Boys of Alabama, Scott Ainslie, Rick Nestler, Matt Cartsonis, Betty and the Baby Boomers,Hubby Jenkins, Thomasina Winslow, Tiokasin Ghosthorse, Emma's Revolution, Holly Near, R.J. Storm and the Old School Bluegrass Band, Mel & Vinnie, Reggie Harris, Tom Paxton, Diana Jones, The Trouble Sisters, Magpie, Rik Palieri and more.
Clearwater will be adding Revival veterans, as well as some newcomers to the lineup.
2021 Revival T-shirts are available for purchase: http://bit.ly/Revival2021Shirts.
"While we will sorely miss gathering beside the Hudson in Croton in person (again), we are thrilled to continue the tradition of Revival as a virtual event this June" said Steve Stanne, Clearwater's Board President and Co-Interim Executive Director. "We hope that the virtual platform will allow greater access to festival goers and enable them to join us from around the planet."
History of the Great Hudson River Revival (Clearwater Festival)
Back in the mid-sixties, after centuries of accumulated sewage pollution and industrial dumping of toxic chemicals, the Hudson River, like many of America's most important estuaries, was declared "dead". The river's fragile ecological system was devastated. Not a single fish was found in many areas, and the level of commercial fishing had dropped so dramatically as to be regarded as nonexistent. Recognizing this incredible social and environmental tragedy, in 1966, Pete Seeger decided "to build a boat to save the river" by holding small, fundraising river concerts throughout the Hudson River Valley where he opened his banjo case to collect contributions to build the sloop Clearwater, a tall ship that would become recognized as America's Environmental Flagship and a symbol of environmental advocacy.  Since the 1960s, the Clearwater Festival has grown into the country's largest annual environmental celebration, its music, dance and storytelling, education and activism attracting thousands of people of all ages to the shores of the Hudson River.
Past artists include: Pete Seeger, Bonnie Raitt, Jackson Browne, Joan Baez, David Crosby, Citizen Cope, Lucinda Williams, Emmylou Harris, Natalie Merchant, Jason Isbell, Neko Case, Guster, Drive-By Truckers, Indigo Girls, Martin Sexton, Steve Earle, Bela Fleck, Lake Street Dive, Arlo Guthrie, Los Lobos, Angelique Kidjo, Richie Havens, Old Crow Medicine Show, Grace Potter, Susan Tedeschi, Taj Mahal, Billy Bragg, Hot Tuna, Josh Ritter, Punch Brothers, Dawes, The Lone Bellow, Blind Boys of Alabama and thousands more.
About Hudson River Sloop Clearwater 
Launched in 1969 by legendary folk singer and activist Pete Seeger, Hudson River Sloop Clearwater has been at the forefront of the environmental movement as a champion of the Hudson River. To date, more than half a million people have experienced their first real look at an estuary's ecosystem aboard the Sloop Clearwater. Clearwater has become the grassroots model for producing positive changes to protect our planet. For more information, visit www.clearwater.org.
Hudson River Sloop Clearwater
724 Wolcott Avenue,
Beacon, NY 12508
Media Contacts: Erin Macchiaroli
(845) 265-8080 Communications x 7100
Commun@Clearwater.org