The Great Hudson River Revival 2021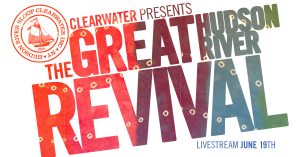 We are excited to announce that The Great Hudson River Revival will return virtually on June 19th, 2021! This year's Great Hudson River Revival will be live-streamed from 11 am – 11 pm EST on June 19th on Clearwaterfestival.org as well as Clearwater's Youtube and Facebook pages.
Clearwater will be adding Revival veterans, as well as some newcomers to the lineup: https://www.clearwaterfestival.org/performers/. All performances will be accompanied by ASL interpreters.
Be sure to sign- up for festival updates so as not to miss anything!
Support the 2021 Great Hudson River Revival, Donate Now!
While The Great Hudson River Revival is free to attend, Clearwater encourages viewers to donate if they are able.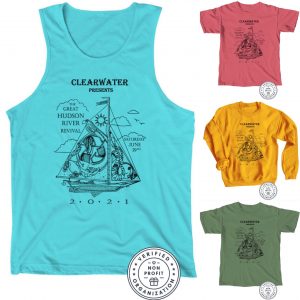 Order now to help support our work in continued environmental protection, advocacy, education & the virtual event on June 19th. Proceeds from the sale of these shirts help support the work our organization does, including ecological education on and off the sloop; environmental action and advocacy to keep the Hudson River and the surrounding communities healthy and safe.