Environmental Action Update: April 2021
Indian Point, Regional and National Nuclear Decommissioning Advocacy:  
3/30/21 Congressional Briefing: Toward an Evidence-Based Nuclear Energy Policy: 
Approximately 350 congressional staff, elected officials, agencies and citizens attended this superb briefing.  Please contact
Manna
or
Matt
to help
Please view Gordon Edwards' excellent Nuclear Waste 101: An Introduction and Overview  
Video:   https://www.youtube.com/watch?v=wD2ixadwXW8
Slides:  https://www.eesi.org/files/GE_Congress_2021.pdf
and Steve Kent's: BACKGROUND INFORMATION FOR THE 3/30/21 EESI CONGRESSIONAL BRIEFING:
TOWARDS AN EVIDENCE-BASED NUCLEAR ENERGY POLICY Gaps in Research, Regulation, Policy, and Practice in the U.S. Nuclear Industry, and What Policymakers Can Do to Bridge Them
---
Stop the Proposed Danskammer Fracked Gas Expansion: 
PSC Article Siting Board Public Comment Hearing: 
9 hours of public hearing over the proposed Danskammer expansion garnered comments from over 300 participants!  There were so many people that only about half got a chance to speak. Out of the 186 speakers, 175 opposed this so called "repowering" project.  Fortunately for those who did not get a chance to voice their concerns, you are still able to submit written comments.  Please add your voice to the over 11,000 written comments thus far!  Written comments are accepted through August of this year.
Please submit comments on  Case # 18-F-0325
http://documents.dps.ny.gov/public/MatterManagement/CaseMaster.aspx?MatterSeq=56697&MNO=18-F-0325.  Click on  Post Comments –– you have up to 3,960 characters and can add an attachment.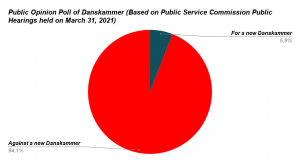 Other Ways to Comment:  You many also send comments by email to the Secretary to the Siting Board at secretary@dps.ny.gov.  Alternatively, comments may be mailed to the Hon. Michelle L. Phillips, Secretary, New York State Board on Electric Generation Siting and the Environment, Three Empire State Plaza, Albany, New York 12223-1350. 
---
Watershed Protection
2021 Budget protects NY's Waters:

  The NYS Legislature's  recently passed budget includes $500 million Clean Water Infrastructure Act, $300 million Environmental Protection Fund and a $3 billion Environmental Bond Act ballot initiative set for the November 2022 general election.  If passed by voters, it will fund ongoing watershed protection and restoration, wastewater infrastructure projects, open space land conservation and recreation, climate change mitigation, and will promote resilience, including flood risk reduction to eliminate pollution into water bodies, with a focus on funding benefits in environmental justice communities.

Learn more on our blog

.

Newburgh Drinking Water Contamination: 

Clearwater is a member of the Stewart Air National Guard  Restoration Advisory Committee (RAC) for the PFOS remediation. To register for the next (virtual) RAC meeting on

April 28, 2021 at 6 p.m., please use this link:

https://attendee.gotowebinar.com/register/2031594436951714320

.

Champlain Hudson Power Express (CHPE) to be discussed with EPA at the next Hudson River Community Advisory Group (CAG) meeting on Thurs., June 3, 2021 at 3 p.m.

 On behalf of Hudson-7, the seven communities in the Lower Hudson that take their drinking water from the Hudson River, Clearwater asked EPA to reconvene the CAG for GE's Hudson River PCB Superfund Remediation to provide an update on the

Facility Investigation (

RFI) for the Lower Hudson and to address the issue sediment of resuspension, if the CHPE moves forward.

Proposed Pump Storage facility at the Ashokan In the Town of Olive: 

Amid much concern regarding this proposal, on April 6 the Ulster County Planning Department submitted a motion to intervene and on April 8, NY City Department of the Environment (DEP) submitted comments to FERC opposing the Premium Energy Holdings, LLC, stating: 
    "The Project would degrade water quality within the Ashokan Reservoir and undermine  
the City's massive efforts and investments to improve water quality. In sum, the Project
is ill-conceived, and its detriments significantly outweigh its potential benefits."  
In the meantime, many communities are urging the NYC DEP to do more to address the existing problem of turbid discharges into the Lower Esopus Creek.  Clearwater is still planning to convene a consensus-building roundtable on where hydropower can and should be captured appropriately and where dams should be removed to allow free-flowing waters to improve fish migration and watershed health.
---
Addressing the Global Climate Crisis:
Support for Climate and Community Investment Act  (CCIA):  I

n June 2019, the NY State Legislature passed the

Climate Leadership and Community Protection Act (CLCPA), the nation's most progressive climate justice legislation. 

It's time to build on that legacy by enacting a massive revenue and spending plan to meet our state's goals for climate, jobs, and justice.  For too long, fossil fuel pollution has sacrificed the health of entire communities — most often communities of color and low income — in order to profit their shareholders. The

Climate and Community Investment Act (CCIA)

would make them pay, by instituting a fee on greenhouse gases and co-pollutants to be paid by the companies importing fossil fuels into New York state. Starting at $55 per ton of greenhouse gas emissions, and increasing year by year, the CCIA would raise around $15 billion per year over the first 10 years, which will be used to create good, green jobs, invest in frontline communities, and build a renewable economy for New York State.  

How to Provide Public Comment on CCIA;

 You can submit an electronic copy of your written testimony no later than the close of business on the day of the hearing April 13, 2021 to

encon@nysenate.gov

.

   
---
Events of Interest: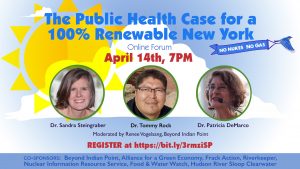 Wed., April 14, 7 pm:  The Public Health Case for a 100% Renewable New York.
Join Beyond Indian Point for their third forum in a 4-part series on the transition to 100% renewables in NY.
Dr. Sandra Steingraber, Dr. Tommy Rock and Dr. Patricia DeMarco, esteemed scientists and experts on health, energy and the environment, will discuss the health impacts of fracked gas, uranium mining and nuclear power and why a swift transition to 100% renewable energy is the way forward for better public health.  Register
HERE
.
Mon., April 19, 5:30 PM to 7:00 PM (EDT) Hudson Valley Environmental Justice Coalition presents Jacqueline Patterson,  NAACP's Director of Environmental and Climate Justice.
For details, click
here
:
To access the online event page, click
here
: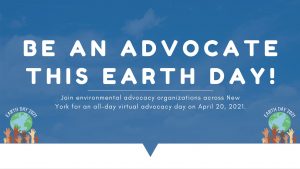 Tues., April 20, Virtual Earth Day Advocacy Day 2021. 
Hundreds of New Yorkers from across the state representing every corner of the environmental movement will be joining together in advocating for a broad platform of legislation to make our state safer, cleaner, and greener. Register here: 
https://secure.lglforms.com/form_engine/s/WIB4c_d-pKV_QMtjYTa-_A
Fri., April 30, 6:00 — 7:30 p.m. Indian Point Powers Down:A Historic Day for the Hudson.  
On April 30, IP Unit-3, the plant's last operating reactor will close down permanently,  marking the end of the Nuclear Power generation at Indian Point, and the beginning of the decommissioning phase.  Let's be sure it is done as wisely and safely as possible. Riverkeeper's panelists, including Rep. Mondaire Jones, Paul Gallay, Richard Webster, Manna Jo Greene and others. 
Learn More
Register with Zoom
For more information, please contact:   mannajo@Clearwater.org   or   matt@Clearwater.org