Thanks to you…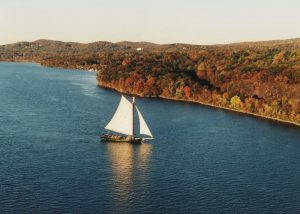 The sloop has been back in the water since July and she's having
one of the busiest fall seasons yet! The restoration is complete and the mid-ship section of the hull couldn't be stronger. And her message about preserving the river is still getting throu
gh. Not that long ago, a young man on a windsurfer sailed close by the stern and called out, "Clearwater, it's thanks to you that we're out here." We should all feel really good about how far we've come.
But today, the Hudson faces a new threat – a proposal to designate hundreds of acres of the river as a parking lot for crude oil barges.
Pete Seeger was a visionary and he knew we would have to continue fighting for the River:
"I'm quite convinced that 500 years from now, the Clearwater will still be sailing….Because there will still be a job to do."
At the re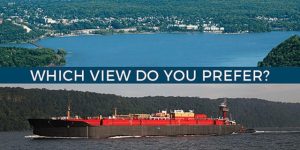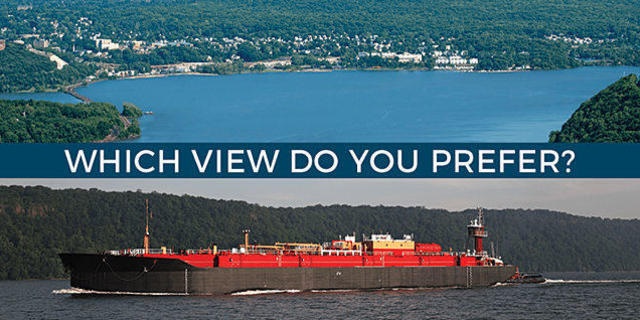 quest of the shipping industry, the U.S. Coast Guard has proposed to dramatically expand anchorage grounds for commercial vessels in the Hudson River – 43 berths in 10
locations from Yonkers to Kingston. There are currently just two (2) anchorage grounds, at Yonkers and Hyde Park. The additional anchorages would be located in Kingston Flats South, Port Ewen, Big Rock Point, Milton, Roseton, Marlboro, Newburgh, Tompkins Cove, Montrose Point, and Yonkers.
We can't allow a national treasure like the Hudson to be used as a parking lot for giant barges carrying crude oil that will likely be shipped overseas. These anchorages would diminish the Hudson, kill fish, spoil views, harm a multi-billion dollar tourism industry, and pose an active oil spill threat that could devastate the river.
It's because of you that we've come this far. Let's not give up the fight. Please help us protect the Hudson by making a generous contribution today! Thank you for considering our request.
Sincerely,
Dave Conover
To make your donation to help Clearwater protect the Hudson River, please click here and select "Protect the Hudson" as your gift designation.