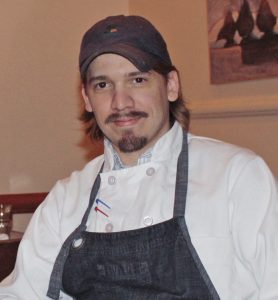 Beau Widener, executive chef of Crabtree's Kittle House Restaurant in Chappaqua, will be will be among the celebrated Hudson Valley chefs at Chefs for Clearwater 2018, to be held at The Culinary Institute of America on Sunday, October 14, according to Chef Terrance Brennan, organizer and co-host of the event.
After ten years cooking in the kitchens of country clubs in south Florida, and at a resort in Vermont, Chef Widener decided to further his culinary education at the CIA-and quickly fell in love with the Hudson Valley
"As a chef I feel a responsibility to focus not only on the art of cooking but the source of the ingredients as well. I yearn to see the ideal of eating in a sustainable manner be adopted by more and more people who also support local farmers and influence the community positively."
At Crabtree's Kittle House, Beau seeks out the finest sustainable, naturally raised and grown produce from small, artisanal farmers, continuing the tradition that established Kittle House as a farm-to-table pioneer in Westchester County more than 30 years ago.
Chef Widener will join Chef Josh Kroner of Terrapin Restaurant in Rhinebeck, Chef Kristina DePalma of The Roundhouse in Beacon and Chefs Jason Potanovich and Brian Kaywork of the Bocuse and American Bounty Restaurants at CIA in Hyde Park in creating a locally-sourced five-course tasting menu celebrating the bounty of the Hudson Valley.
Tickets for this one-of-a-event are now on sale at chefsforclearwater.org.