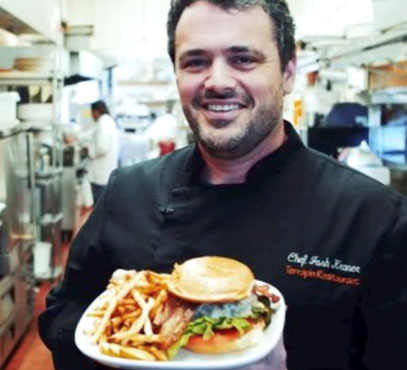 Chef Terrance Brennan, organizer and co-host of Chefs for Clearwater 2018, has announced that Josh Kroner, owner and executive chef of Terrapin in Rhinebeck will be cooking for the cause at The Culinary Institute of America on Sunday, October 14th.
Chef Kroner has been a driving force behind the farm to table movement in the Hudson Valley since opening Terrapin in 1998, delighting diners with a unique style of New American cooking, blending a classical French approach with the influences of Asia, Italy, and the American Southwest.Terrapin has earned numerous awards including "Best Restaurant" in the Hudson Valley by Chronogram Magazine, "Best Farm-to-Table Restaurant of the Hudson Valley" and "Best Bistro of the Hudson Valley" in Hudson Valley Magazine's reader poll, and the Wine Spectator's Award of Excellence.
Chef Kroner will be joining Chef Beau Widener of Crabtree's Kittle House in Chappaqua, Chef Kristina DePalma of The Roundhouse in Beacon and Chefs Jason Potanovich and Brian Kaywork of the Bocuse and American Bounty Restaurants at CIA in Hyde Park in creating a locally-sourced five-course tasting menu celebrating the bounty of the Hudson Valley.
Tickets for this memorable evening are now on sale at chefsforclearwater.org.