Dear Clearwater,
My earliest memories of Clearwater go back to when I was about 4 years old, traveling with my parents Tom and Edral Winslow, going to places like Caffe Lena to see my father perform, to potluck dinners, and with the Sing Out! crowd. Meeting other notable folk artists at fundraiser concerts and festivals were always a part of our family travels during the year. 
I watched and learned and as a 4-year-old, my contribution was to sing the song "1,2,3" on my fathers first album
Tom Winslow Sings,
which contained the song "
Hey Looka Yonder, It's the Clearwater.
" This song was not only his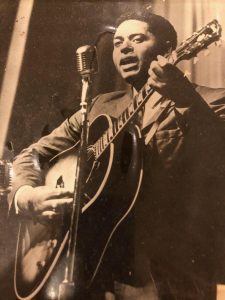 contribution to Clearwater and the naming of the sloop, but artistically it pre-dated Marvin Gaye's "
Mercy Me
," as the first published song on environmental consciousness written and performed by an African American artist. My father said that he got the idea for the song when he was working for Otis Elevators, installing elevators in the Empire State Plaza– I was witness to watching a legacy being built in real time!
The first Great Hudson River Revival that I remember was in 1978, when I was a teenager. My mother Edral Winslow brought a new perspective to vegetarian food that she called "anti-pollutionary" cooking. Her food booth was named Edral's Vegetarian Soul Food and she also was an artisan of quilt making and other Americana crafts. Even as a child I thought that her ideas were brilliant. I should have mentioned their boldness and fearlessness. For a young African American couple in the 60s and 70s, as my parents were, this was revolutionary work. 
My mother wrote a book called Edral's Vegetarian Soul Food Cookbook and on page 9 is the
Clearwater Special Menu
with recipes for meals that she sold at Revival (and other festivals) with classic southern dishes like potato salad,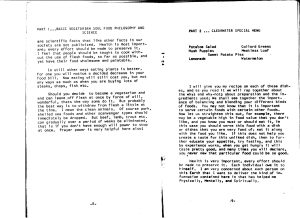 hush puppies, collard greens and adding her own meatless loaf. I have seen my mother feed young performers who were struggling to make names for themselves and were hungry. She was selling the food but, on such occasions, she gave away a Clearwater Special or two.
Moving to upstate NY from North Carolina, bringing their hospitality, talents, and work ethic, my parents did everything they could to support Clearwater and its mission, helping to put it on the map where it solidly stands now. In 2009, when both my father and I were performing on the Sloop Stage at Revival, Pete (Seeger) told me, "When I first met your father, he came to one of my concerts and said, 'I didn't know that you could sing songs like this without being put in jail'." That is how their friendship, co-activism, and my father's folk singing career began. 
Tom and Edral Winslow's inspiration, drive, and love for the mission and legacy of Clearwater continues with me, and I'll do my best to help Clearwater continue to move forward.
Thomasina Winslow
-Thomasina Winslow is a singer/guitarist and a producer of acoustic blues. She carries the legacy in fine form with her snappy guitar chops and warm rich vocals. As a member of the Clearwater Board of Directors, Thomasina lent us her memories for The Generations Story Archive.