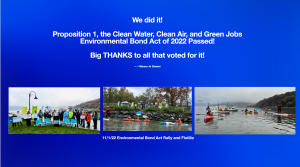 The 2022 Environmental Bond Act passed! Last week we made history – on November 8 New Yorkers voted to pass the first Environmental Bond Act in more than 25 years.  The passage of the Clean Water, Clean Air and Green Jobs Environmental Bond Act is a major step towards creating a better future for the Hudson River and all of New York by empowering the state to fund urgently needed climate, resiliency, and infrastructure projects.  The Bond Act will provide $4.2 billion in funding for Climate Change Mitigation ($1.5 billion), Restoration and Flood Risk Reduction ($1.1 billion), Open Space Land Conservation and Recreation ($650 million), Water Quality Improvement and Resilient Infrastructure ($650 million) and other climate solutions not yet allocated ($300 million).  Of the total funds, 35% must be spent in disadvantaged/priority communities.  As projects are developed, funded, and implemented, we will keep you posted in our monthly newsletters. 
Earlier this month on November 1, Clearwater joined Scenic Hudson and our other partners on the Peekskill waterfront to rally in support of the Environmental Bond Act.  In addition to the on-land press conference, Clearwater mobilized an on-water flotilla consisting of kayakers and paddle boarders. Special thanks to our Bond Act Flotilla Team and all who voted YES for Prop 1! This is a great way to ensure progress continues toward fully realizing the goals of the Clean Water Act.  
Take Action! Raise your voice and advocate for the Hudson River and its communities!
Stand up for Environmental Justice!  Call Governor Hochul and request that she sign the Cumulative Impacts Bill (S.8330/A.2103D) into law!  If signed into law, this bill would amend the State Environmental Review Act (SEQRA) to require comprehensive evaluation of pre-existing environmental and public health stressors in the community surrounding newly proposed facilities.  This groundbreaking bill would help reduce the disproportionate environmental and health burdens faced by disadvantaged communities across the Hudson Valley and New York State.  Last legislative session the Cumulative Impacts Bill passed both chambers of the New York State Legislature, and is awaiting the signature of the Governor to sign the bill into law. 
Take Action:  Call (518) 474-8390 and ask Governor Hochul to stand up for environmental justice by signing S.8330/A.2103D into law.
Help build support for the NY NJ Watershed Protection Act.  
The NY NJ Watershed Protection Act would provide $250 million in funding over the next five years to protect and restore the watersheds that flow into New York-New Jersey Harbor — including the Hudson, Mohawk, Raritan, Passaic, Hackensack, and Bronx Rivers. Last session the bill passed the House of Representatives (HR.4677) and is now being considered in the Senate (S.2394).  Help get this vital legislation passed in the Senate by calling Senators Schumer (202-224-6542) and Gillibrand (202-224-4451) and asking them to be active champions of the NY NJ Watershed Protection Act.
Upcoming Events:
Decommissioning Oversight of Indian Point:  The next meeting of the Decommissioning Oversight Board will be held December 7 at 6:00 p.m. the Cortlandt Town Hall, 1 Heady St., Cortlandt and virtually. Topics will include an inappropriate request regarding the Decommissioning Trust Fund, plans to release radioactive water into the Hudson River, the Community Air Monitoring Plan and other important issues.  For more information about the Oversight Board and upcoming meetings, visit: Indian Point Decommissioning Oversight Board Meetings and Events or e-mail Manna Jo at: mannajo@clearwater.org.
Fish Advisory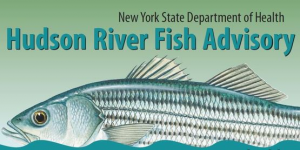 Recreational fishing season on the Hudson is coming to a close for some of our favorite Hudson River critters! Did you know you can fish for some species all year round? Just make sure you're up to date on the Fish Consumption Advisory before you take any fish home to eat! Happy fishing and stay warm!