Dear Clearwater,
My first time on the boat was an autumn sail out of Beacon in 1998, I was part of a Hudson Valley AmeriCorps team, and we had a team building activity (read: party) the night before we were scheduled to sail. Honestly, we were hungover and barely made it to the gangway in time, so I was looking forward to a pleasant cruise on Newburgh Bay. I suddenly found myself on the throat halyard, hauling the most ridiculously large mainsail I'd ever seen, and quickly realized that this was no ordinary sail. The educator that day was a tall, boisterous, fish-lovin', shanty-spewin' fellow in a pale Irish knit sweater. I didn't know his name at the time, but he left quite an impression. Six months later, I saw him again in Clearwater's former office on Little Market Street in Poughkeepsie, when I was interviewing for an onboard educator position. That was when I first officially met Chris Bowser. I'm not sure I've ever been the same since.
I got the job in March and to prepare for my second visit to the boat–this time in Saugerties– Bowser gave me the number of someone named Christian, "who knows the boat inside and out." We made plans for me to pick him up so he could show me around the boat and have me work a maintenance day. I knew I was in the presence of greatness when one of the first questions Christian asked was, "Do you like Star Wars?" Only later did I learn that I had to pick up Christian because he didn't drive. He was only sixteen! I did my best to keep up with Christian as he moved throughout the nooks and crannies of the boat, scampering with the confidence of a creature in its natural environment. In contrast, I awkwardly wacked my shins and thumped my head on everything. That was the first, but not the last, time Clearwater taught me to never let age be a judge of skill, ability, or knowledge. 
Of course, you can't have Clearwater without the music and singing is one of the times I feel most alive. When I started on the boat, I didn't know any "river songs" so I tried to sing any songs I could think of that mentioned water or nature. My family had always played and sung
Fisherman's Blues
by The Waterboys, so I played that and it became one of my signature boat songs. One of the first opportunities I had to play with Pete Seeger was during a short set at an annual meeting. When Pete showed up with his banjo on his back, the event organizer said to me, "It'd be really nice if you asked Pete to play with you." I remember saying to him shaking, "Um…I am quite certain Pete Seeger can play with
me
, but I'm not sure
I
can play with Pete Seeger." I went up there and was about to play an original song about how PCBs had affected the commercial fisheries of the Hudson, when Pete called out from behind me, "What key is it in?" I had no idea. I think I said something like, "Uh…It starts on an Am." I'll always treasure that moment Pete picked this little banjo part to one of my original songs! Getting to play, sing, and write songs about the river on board reinforced that no matter what I did for work, music would always be part of my life.
Certainly, one of the greatest gifts of working as the educator on
Clearwater
is getting to experience the Hudson River in such a deep and intimate way. On and off the river from April to November over the years, I got to watch the seasons change from Albany to NYC and see those changes reflected in the fish species we would see in our trawls. It was an exhausting but breath-taking way to live. There are so many wonderful memories of natural beauty I could never name them all, but sometimes they still come to me in flashes, small reminders of how far we've come and how far we have to go: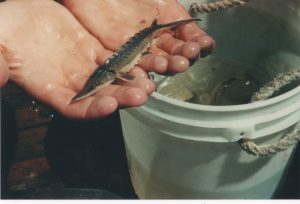 a cod-end of bioluminescent comb jellies on an evening sail, a black crowned night heron with its crest feathers like a jaunty Robin Hood hat patiently spearing fish from the pilings beneath the Palisades, the crooked smiles of darling hogchokers, catching white catfish in the spring but oyster toadfish in the fall off Yonkers, holding a young of the year Atlantic sturgeon in the palms of my hands, heading north under sail, aloft in the crosstrees and sharing the sky with a whirling osprey. 
I loved teaching people about the river, but I also loved to be a part of the crew sailing the boat. I worked hard on my sailing skills during my time on the boat and I feel such gratitude to the Captains and mates that mentored me and shared their knowledge and wisdom. To sail the boat for large stretches of transits or to take the boat on and off the dock filled me with a great sense of accomplishment. I still sometimes dream about the heft of the coils in my hands before a perfectly tossed dock line. One of my proudest moments came in my final year on the boat, when the crew gave me a knife and spike. I felt a bit like a Jedi making their lightsaber as I crafted a leather sheath and lanyard for myself. Now, when my job requires me to work on the water, I still tuck my rig on the console near the throttle–I know I'll be ready for whatever happens. 
More than the sailing, the nature, and the music, Clearwater is the people. Again, many memories are fragments: skit nights, dancing at the Dublin House, head bucket runs, snowball fight with the Mystic Whaler, swim calls, Pumpkin Sail, the smiling faces of the crew that were more than friends – they were family – there to support each other. When I think of the dozens of crew members, hundreds of volunteers, and thousands of kids that I sailed with, I reflect on how each of us walk the decks for a time and then wave farewell with a bittersweet tear as the Clearwater sails on. I met my wife at the same time I started working on
Clearwater
and she became a regular volunteer embraced by the crew. I'm so glad we shared that experience, and we have both made every effort to pass on the lessons we learned on
Clearwater
to our children. Our sixteen-year-old son volunteered on the boat for the first time this year and now he's part of that same vast community of "Clearwater people." Like the river itself, Clearwater is a dynamic system –laid in the foundation of generations before us – finding equilibrium once again through the boundless hope of the generations to come.
Sean Madden
-Sean Madden is a biologist with the New York State Department of Environmental Conservation working on how PCBs affect the natural resources of the Hudson River. Sean and his family live in Albany NY, consider the Hudson River a neighbor, and try to spend as much time outdoors as possible.