By Becky Rowland, Mystic Whaler Educator
During the sailing season aboard Clearwater and Mystic Whaler, we rely on volunteers to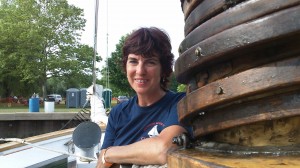 help teach the education program. This involves long days packed with boat chores, deck work like sail furling and deckwash, and teaching. A typical day aboard includes two 3-hour sails with up to 50 students and their chaperones during which the volunteers teach 15 minute learning stations. These stations cover varying topics such as "Navigation," which includes steering the boat; "Water Chemistry," where the students are able to perform tests such as pH, dissolved oxygen, and turbidity; "Hudson River Life," where all the fish caught in the trawl net are viewed; and "Down Below," where students get a chance to see the interior of the boat and learn about history.
Volunteers come from all over, with most coming from the Hudson River Valley. They vary greatly in age and background: some straight out of high school, others are professionals taking a week's vacation time to come out on the boat, and some folks who are retired coming out to stay active and involved in their community. Some once were 4th grade students who came aboard for an education program or had gone onboard as a chaperone with their child's class, and some are coming out for their first time. Like volunteer Linda Leith, many volunteers have learned about the Clearwater educational program serendipitously.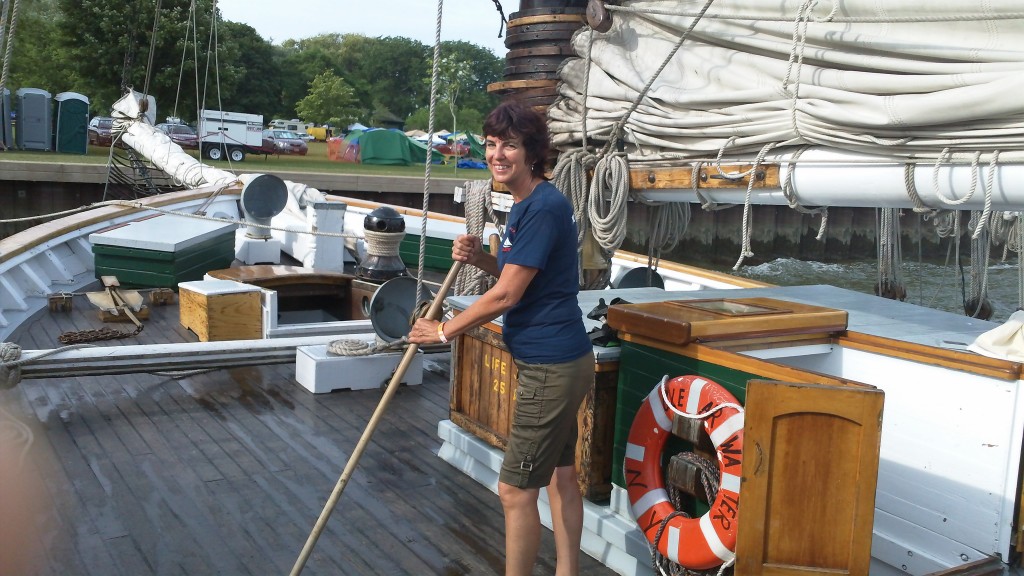 Linda, an active upper middle-aged grandmother of one, has worked the last two years as a maintenance manager for four apartment buildings in Manhattan. Last summer as she went biking past the 79th Street Boat Basin, she noticed a large sailboat. Having always had an interest in sailing, she approached a crewmember and learned about the opportunity to volunteer aboard. This spring she was able to come out for the first time onboard Clearwater for a week. As a building manager she has the flexibility of creating her own schedule, which has allowed her to take advantage of our need for last minute volunteers, and get the chance to sail onboard Clearwater and Mystic Whaler for a total of four weeks this past Spring. She finds, "working with kids, sailing, and being a part of a great community, while doing something worthwhile and purposeful," the most exciting part of volunteering onboard.
Linda found herself most surprised at the diversity of life in the Hudson River, particularly the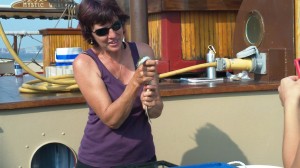 story of the life cycle of the American Eel that lives it's adult life in the Hudson River, and swims to the Sargasso Sea (which includes the Bermuda Triangle) to spawn. Then the young eels migrate back to freshwater rivers along the East Coast of the US and the Western Coast of Europe. An exciting moment from one of her many days aboard took place  in early May during her first week on the Mystic Whaler. The afternoon group of students was dropped off in Newburgh and the crew and educators transited the boat across the river to Beacon to spend the night. They found themselves scrambling to furl sails and stow the deck in the face of an oncoming thunderstorm. Linda found the people aboard, "worked as a team, like a well-oiled machine." The work was accomplished and everyone ended up soaked bythe rain, but Linda remembers that she, "felt so alive".
Linda cited the most challenging aspect of volunteering was keeping students engaged, "especially 5th grade boys." Despite this challenge, Linda has found her time aboard to be one of the greatest experiences she's ever had: "It's been so interesting; there have never been two days that are the same. It's totally turned my life upside down." While she felt settled in her life before volunteering, after spending time on the boat, her plans to move back out West have changed to plans of sailing in the fall and winter aboard tall ships.
"This has been such an enriching experience which has taught me about teamwork and community values. I have learned so many things all at once about sailing and students." Linda recommends that anybody thinking about volunteering, "go for it!"
Volunteer positions are filled on and ongoing basis aboard the Mystic Whaler in the spring, and aboard Clearwater for the spring, summer, and fall. Online applications can be found at https://www.clearwater.org/education/volunteer-crew-on-the-sloop/