Clearwater Youth Empowerment Programs give students the opportunity to work and learn onboard the Clearwater throughout an intensive three day environmental training. Since 2001, This program has inspired high school students throughout the Hudson Valley.
The Hudson River Sloop Clearwater offers a variety of ecology-based experiences to thousands of youth and adults each year. We make it a priority to reach out to urban and rural areas and minorities who are often underserved in this capacity. Young Women and Young Men at the Helm introduces Hudson Valley youth to the river through an intensive three day leadership training program. Annually, 20-25 young women and young men are accepted to the program and participate in various on-board and shore based activities. The program begins with outreach visits to several community groups and schools in low-income, urban areas throughout the Hudson Valley.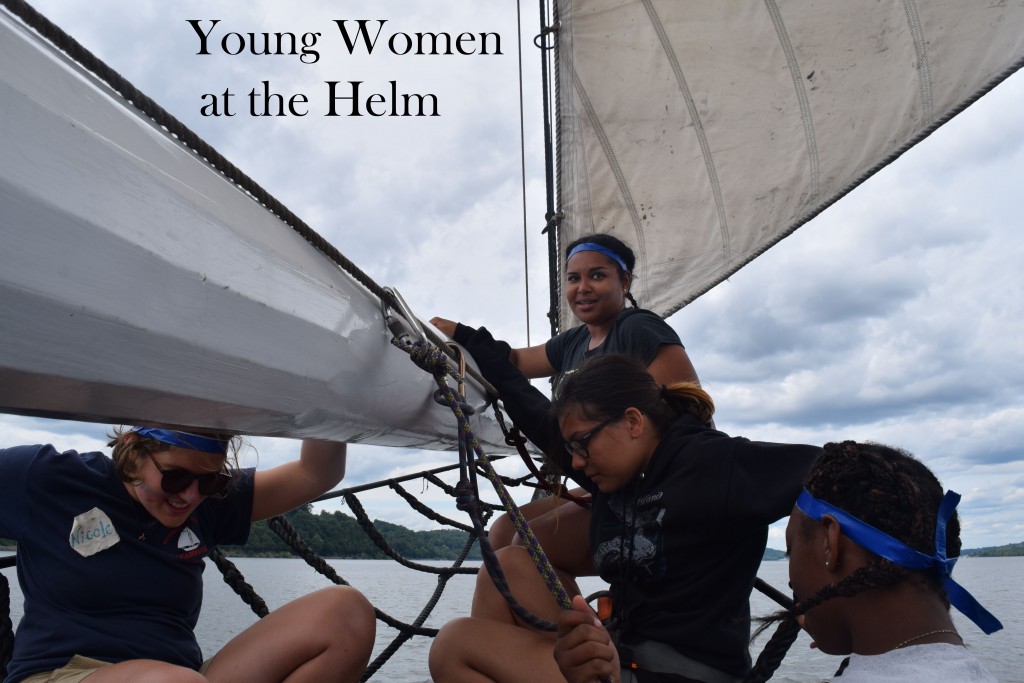 The first Young Women at the Helm was in 2001. The program was designed to encourage more young women from the Hudson Valley to get engaged in sailing and to see themselves as active youth leaders. This program runs over three days in mid-summer. Participants sample experiential activities involving ecology and pollution, sailing and navigation. The participants then choose one topic for focused learning. Broken into groups, each "watch" also learns one boat-related physical skill such as docking the vessel or raising sail that they will perform on their own.The two nights of the program are spent ashore camping and meeting with female guest speakers from varied professions: politicians, doctors, environmentalists, scientists, historians and sea captains. At the end of the program, each group presents what they have learned to their peers. Many of our participants have gone on to work on the boat as volunteers, apprentices, and crewmembers.
Click here for a printable application.
---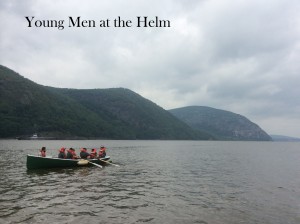 Young Men at the Helm started in 2009. Since its inception, many of our participants have gone on to work on board the Clearwater, as well as succeed in environmental and maritime careers. The hard work of learning and living as a crew provides the young men as an opportunity to learn more about thriving, in a small community and overcoming challenges.
Participants choose from different activities involving ecology, navigation, maritime life and history for their learning focus. Broken into groups, each "watch" aboard the Clearwater also learns one boat-related skill, such as docking the vessel or raising the sail that they will perform on their own by the end of the program.
The Young Men at the Helm program also introduces participants to inspiring role models and community leaders. The two nights spent ashore camping feature guest speakers, including elected officials, environmentalists, scientists, historians, and sea captains who provide insights into potential career choices.
---
LGBTQ+ Allies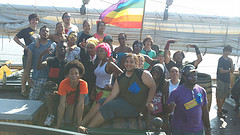 In 2009, Clearwater launched the first-ever onboard environmental education and leadership training program for youth who identify as Lesbian, Gay, Bisexual, Transgender, Queer and Allies. Clearwater is committed to empowering and educating our Hudson Valley LGTBQ youth and allies to become the next generation of environmental leaders who will help us join together for a brighter, healthier future.  We're excited to revive "Queerwater" again this summer!
This year participants be involved in a wide range of physical and academic activities in small groups and as a larger team. Together we will set sail, deploy fish nets, test water quality, and navigate the sloop. We will also examine development of environmental and LGTBQ movements, and explore how to be a leader in both. Many of our former crew who identify as gay, queer, or gender non-conforming will be returning to talk about their experiences as sailors and in other professions. Several guest speakers will be talking about community leadership, personal challenges, and the limitless opportunities open to everyone today.
---
Youth Volunteer
Many of our crew members have started through this position. For young people interested in learning more about the river, environmental education, and tall ships, this is an amazing opportunity.
Youth Volunteers must have full permission from parents and guardians, and sign a conduct contract.
To apply, please fill out an online application 
To learn more about sloop volunteer responsibilities, visit https://www.clearwater.org/education/volunteer-crew-on-the-sloop/, or email educator@clearwater.org