…
Benefit for Clearwater
Combining the power of music with protection of the environment – the theme of the Earth Grooves concert – has been a hallmark of Clearwater from the time it was founded by folksinger and environmental activist Pete Seeger.  The organization's 106-foot Hudson River sloop Clearwater, a floating classroom that joins with the schooner Mystic Whaler to host Hudson River educational sails for 12,000 students a year as well as adult education sails and public sails, engenders a love for the river and the inspiration to protect its watershed. There is always music on board the Clearwater and in all we do.
Earth Grooves Performers
Celebrating our connection to nature as well as to cultures around the globe, Earth Grooves will present a wonderful evening of music and dance from indigenous traditions that have a uniquely close relationship to the Earth: West African, Native American and Andean. It will be emceed by the renowned Composer, Conductor, Storyteller, Scholar and Multi-Instrumentalist, David Amram. Some of it will be contemplative and meditative; some of it full of energy and celebratory. The evening will also include short poetic readings on our relationship to nature and a dialog among the performers and Amram about how different cultures perceive and express that relationship.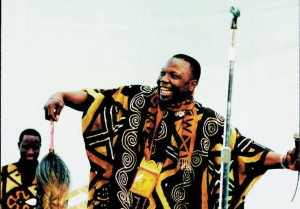 Clearwater is proud to present world-renowned African singer and instrumentalist Abdoulaye (Djoss) Diabaté and his group of musicians and dancers. (Video.) Abdoulaye was born in Kela, Mali, to the Diabaté family, a clan of powerful vocalists famous as battlefield djialys, who would accompany warriors in battle to recount what took place. Raised in the heart of the Mande tradition, Abdoulaye later spent two decades performing contemporary and traditional music. His career led him to a fusion of these styles. In 1973, he joined the Tenetemba Jazz in Bamako, Mali. Later still, he was noted as the lead singer of the Koule Star Band of Kouchala. In 1975 he moved to Abidjan, Ivory Coast, where he formed his group Super Mande,  which featured some of the greatest luminaries of West African music. In 1992, he joined the World famous Ballets Koteba as a singer and guitarist and toured the world playing guitar with Les Go de Koteba and singing with the Ballets, known as the African Opera. Diabaté  has been based in New York since 1996.  He was one of the stars of the 2002 Smithsonian Folkways compilation: "Badenya, Manden Jaliya in New York City," and was featured on the cover of the album. Since then, he has made further inroads into world consciousness via collaborations with jazzmen Don Byron and Peter Apfelbaum and guitarist-journalist Banning Eyre. He has released numerous albums to great critical acclaim.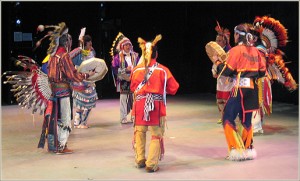 Established in 1963, the Thunderbird American Indian Dancers are the longest-running resident New York City Native American Dance Company. Their acclaimed performances feature a diversity of dance forms that reflect the group's multicultural tribal membership. (Video.) Their mission is to preserve, perpetuate, and present a more realistic understanding of Native American cultures. The group has performed at the American Museum of Natural History, the Metropolitan Museum of Art, the Museum of the American Indian, the Brooklyn Museum, Columbia University and NYU, among many other local venues, and has toured Mexico, Canada, Israel, Europe and Japan, delighting family audiences around the world.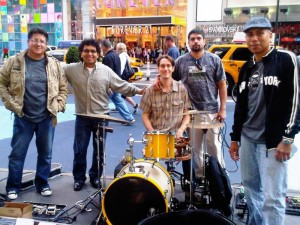 An instrumental group specializing in music from the mountains of South America, Agua Clara – which we are compelled to point out translates to "Clearwater" – is the best-known and most popular Andean Music ensemble in New York. (Video) With most of its members hailing from Peru, Ecuador, and Chile, this quintet adopts a more progressive and lively approach to Andean folk music, resulting in folk music with an infectious energy.  The unique sound of Agua Clara stems from its ability to give the traditional folk music a modern twist – while still utilizing instruments indigenous to the Andean region, like pan flutes, quenas (another variety of bamboo flutes), and the charango (a South American version of a mandolin). Led by Ecuadorian guitar player Angel Marin, Agua Clara has been together for more than 15 years and made ten CDs. The group has appeared at thousands of venues around the United States, playing in museums, at parties and in concert halls including Lincoln Center's Avery Fisher Hall, always delighting audiences with the infectious rhythms and haunting melodies of the native Andes.
The evening's host/emcee will be David Amram, an extraordinary and celebrated world musician, with deep understanding of the music of native cultures. (Video) The first Composer-in-Residence at the New York Philharmonic, he is a virtuoso performer on many instruments from jazz French horn and an array of flutes to keyboards, percussion and folkloric instruments from 25 countries. He has composed more than 100 orchestral and chamber music works, written many scores for Broadway theater and film, including the classic scores for the films "Splendor in The Grass" and "The Manchurian Candidate"; two operas, including the groundbreaking Holocaust opera "The Final Ingredient"; and the score for the landmark 1959 documentary "Pull My Daisy," narrated by novelist Jack Kerouac.  He is also the author of three books, "Vibrations," an autobiography; "Offbeat: Collaborating With Kerouac," a memoir; and "Upbeat: Nine Lives of a Musical Cat," published in 2007. Amram has collaborated with Leonard Bernstein, Dizzy Gillespie, Langston Hughes, Dustin Hoffman, Willie Nelson, Thelonious Monk, Odetta, Elia Kazan, Arthur Miller, Charles Mingus, Lionel Hampton, Johnny Depp and Tito Puente. His most recent orchestral works include "Giants of the Night," commissioned and premiered by flutist Sir James Galway in 2002; "Symphonic Variations on a Song by Woody Guthrie," commissioned by the Woody Guthrie Foundation in 2007; and "Three Songs: A Concerto for Piano and Orchestra, "written for and premiered by pianist John Namkamatsu in 2009.  He was also chosen as the 2008 Democratic National Convention's Composer in Residence For Public Events.
Venue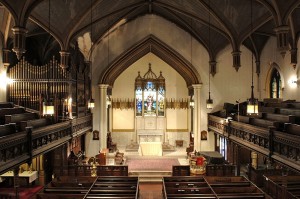 The concert will be held in the awe-inspiring 600-seat sanctuary of Yonkers' historic Saint John's Episcopal Church on Getty Square. Listed on the National Register of Historic Places since 1982, the church dates back to 1752, with additions in 1849 and 1874.
VIP Reception
The concert itself will begin at 7:00 PM. Starting at 6:00, Clearwater will host a wine-and-cheese VIP reception at the Church, where there will be special Earth Day music and entertainment provided by The EarthTones, "Women's a cappella for a cause" and popular folk singer, songwriter and instrumentalist father-son duo David and Jacob Bernz. VIP tickets, $100, also entitle holders to front-rows seating at the concert.
Clearwater and Yonkers
The sloop Clearwater has traditionally docked a number of times each year on the Yonkers waterfront. In the summer of 2015, however, Clearwater will officially designate Yonkers a Clearwater Home Port, as part of an arrangement facilitated by the Downtown Waterfront BID and the City of Yonkers that will result in more frequent docking of the sloop there and an array of dockside activities. With the combined and coordinated presence of the Science Barge and the Beczak Center, it will help make the Yonkers Riverfront a school and family destination for Hudson River environmental education and celebration. The formal announcements and events marking the Yonkers Home Port designation will occur this summer. The Earth Grooves Concert will be Clearwater's first major event in Yonkers leading up to the announcement.
Parking for the Event
Please note:  Parking at the church is very limited. There is street parking and several nearby parking garages (Information below). The church is a five-minute walk from the MTA train (Directions below).
Street Parking:
Visit http://www.yonkersparkingauthority.com/facilities.asp for information on available parking. There is also metered street parking.
Garages:
Buena Vista Garage (Yonkers Parking Authority)
8 Buena Vista Drive
Yonkers, NY 10701
Government Center Garage (Yonkers Parking Authority)
118 New Main St. /Nepperhan Ave.
Yonkers, NY 10701
MPG Parking
47 Riverdale Ave.
Yonkers, NY 10701
914-965-3904
From the MTA:
Take the Hudson line to the Yonkers Station.  It is about a five-minute walk to the church from the station.  Descend the stairs from the train platform and head left, continuing out of the station into Larkin Plaza.  Go right and continue to the second left, which is Main Street.  Turn left onto Main St. and proceed  to the first major intersection, with Riverdale Ave.  Go right on Riverdale and continue to the first intersection, Hudson Street.  Go left at Hudson and continue until you reach the church, which will be on your left.