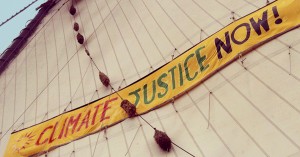 WHAT is Climate Justice?  Climate Justice advocates to dissolve and alleviate the unequal burdens on communities due to climate change. As a form of environmental justice, climate justice involves the fair treatment of all people and freedom from discrimination with the creation of policies and projects that address climate change and the systems that create climate change and perpetuate discrimination.
WHO is climate change affecting the most? Climate change is fundamentally an issue of human rights and environmental justice. With rising temperatures, people of color, low-income, and Indigenous communities are particularly affected by compromised health, financial burdens, and social and cultural disruptions. Persons living in Climate Justice areas are also the first to experience heat-related illness and death, respiratory illness, infectious diseases, unaffordable rises in energy costs, and extreme natural disasters. Not only do these populations bear disproportionate burdens from climate change itself, but also from ill-designed policies.
WHERE do we need Climate Justice? Climate injustice affects communities both locally and globally. In the U.S., a vast majority of low-income, communities of color are concentrated in urban centers in the Southern United States and along coastal regions–areas at high risk of flooding and major storms, and that have a history of substandard air quality. For more information, visit http://www.ejcc.org/.
Clearwater implemented a Climate Justice initiative in four Hudson Valley cities in 2012 with funding from a highly competitive EPA Environmental Justice Small Grant. This grant utilized the template created by the Peekskill CBEJI to assess potential environmental, economic, public health, and safety impacts of climate change on communities of color and low income in Kingston, Poughkeepsie, Beacon, and Peekskill, each of which have waterfronts vulnerable to sea-level rise along their shorelines.
For more information about the CBEJI or Climate Justice grant, please contact Manna Jo Greene at MannaJo@Clearwater.org or 845-265-8080 ext. 7113.