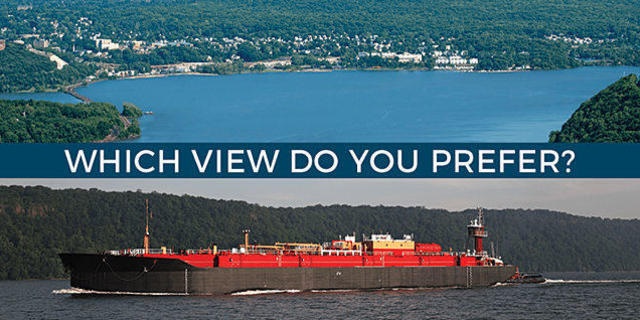 The US Coast Guard is reviewing an application to build 10 anchorage sites along the Hudson River from Yonkers to Kingston to accommodate mooring of huge crude oil tankers and barges and other commercial uses. This development will have serious impacts on the ecology and scenic beauty of the iconic Hudson River, compromise Clearwater's and others' educational programs, negatively impact tourism and riverfront businesses, and risk oil spills and other dangers.  Barely a reach of the river will not have one of these sites.  Please sign the petition and submit your comments before September 7th to help us show the Coast Guard why the Hudson should not be turned into an industrial parking lot.
"This ill-conceived proposal to extend anchorages for large commercial vessels is a throwback to the days when rivers like the Hudson were often treated as stagnant industrial canals.  After decades of work changing perceptions about the value of healthy rivers, the Hudson is now a thriving estuary and serves as a tourism magnet for the towns and cities along its shores.  Creating more staging areas for barges and tankers, many carrying huge volumes of hazardous fuels, would represent an unacceptable step backward to all the progress that has been made. "  –  Dave Conover, Interim Executive Director, Hudson River Sloop Clearwater
Click here for a full overview of the proposed anchorages and the consequences this would have on the Hudson River. 

Take Action: 
Please send your comments to the US Coast Guard today.  Sample comments are here.  Please copy and paste into the space provided here, adding your own thoughts, if you care to.  Please include Docket Number USCG-2016-0132.  Comments are due Sept. 7.
Or sign NY State Sen. Terrence Murphy's on-line petition and add your own comments: