Celebrating the 50th Anniversary of the Clean Water Act.  This month marks the 50th Anniversary of the landmark Clean Water Act, which was passed with bipartisan support on Oct. 18, 1972.  Soon after it was launched in May 1969, Clearwater sailed up and down the Hudson collecting thousands of signatures calling for the Federal government to pass the law and provide funding to protect the nation's waterways.  The Sloop then sailed to Washington, DC in celebration of the first Earth Day in 1970 to deliver the petitions at a Congressional Briefing calling for action, with a concert that followed – and this is considered to be the turning point for the passage of this historic legislation.  To commemorate the 50th anniversary of the Clean Water Act, Clearwater is partnering with Riverkeeper and others to present a major symposium on the achievements  and what remains to be done to achieve the goals of CWA.   Watch for details to follow as we firm our plans.  In the meantime, please join Manna Jo Greene on WBAI's Eco-Logic on Tues., Oct. 25 at 11 a.m. to celebrate this momentous milestone. Tune in online or at 99.5 FM.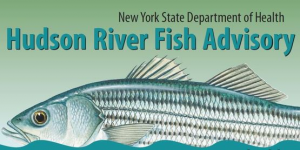 Hudson River Fish Consumption Advisory Remains in Effect:  As a result of General Electric's releases of polychlorinated biphenyls (PCBs) into the upper Hudson River between 1947-1977, the entire river south of the contamination sites at Hudson Falls and Ft. Edward is the largest Superfund site in the United States.  Contamination has been found in water, sediment, and wildlife across over 200 miles of the Hudson River, from Hudson Falls to Manhattan.  According to the US Environmental Protection Agency, PCBs are known to cause health issues including low birth weight and reproductive and immunological problems, and are suspected to cause cancer.  Fish in the Hudson River have been documented to contain PCBs, which can be transmitted to humans through eating contaminated fish.  Given these risks, the NYS Department of Health (NYSDOH) maintains Health Advisories with recommendations for who can safely consume which fish species, what regions it is safe from which to eat fish, and how often each type can be consumed by different demographic groups.  Learn more and explore the fish consumption advisory.   
In partnership with Clearwater, the Cities of Newburgh and Beacon recently ordered additional signage from the Department of Health to educate those who fish in local waterfront parks about the fish advisory.  If you live in or visit a Hudson River shoreline community which could use more PCB educational signage, please refer the municipality to the Department of Health, which has signs in several languages available free of charge.
EPA Reaches Settlement Agreement with GE to sample Lower Hudson:   While securing a settlement with General Electric to study the Lower Hudson is a step in the right direction, it is important to note that this is a voluntary Settlement Agreement between GE and EPA.  The additional data collection — on water, sediment, and fish — will pave the way for determining the next steps to remediate the harmful effects of PCB pollution in the Hudson River.  Learn more about Hudson River PCB contamination at: https://www.clearwater.org/ea/pcb-contamination/
Stand up for Environmental Justice!  Contact Governor Hochul and request that she sign the Cumulative Impacts Bill (S.8330/A.2103D) into law!  This past legislative session, an historic bill passed both chambers of the New York State Legislature.  If signed into law, this bill would amend the State Environmental Review Act (SEQRA) to require comprehensive evaluation of pre-existing environmental and public health stressors in the community surrounding the location of any newly proposed facilities.  The bill would help reduce the disproportionate environmental and health burdens faced by disadvantaged communities across the Hudson Valley and New York State more broadly. 
Take Action:  Please call: (518) 474-8390 and ask Governor Hochul to stand up for environmental justice by signing S.8330/A.2103D into law.
NY NJ Watershed Protection Act:  Another action we can take is to ask our Senators Schumer and Gillibrand to support the NY-NJ Watershed Protection Act, which passed the House of Representatives (HR.4677) and is now being considered in the Senate (S.2394)  This bill proposes to provide $250 million in funding over the next five years to protect and restore the watersheds that flow into New York-New Jersey Harbor — including the Hudson, Mohawk, Raritan, Passaic, Hackensack, and Bronx Rivers. 
Indian Point Decommissioning Update:  The Sept. 22 meeting of the Indian Point Decommissioning Oversight Board (DOB) focused on Emergency Preparedness and Response, with presentations by DOB members, followed by an excellent overview of the community perspective offered by Tina Volz Bongar of the Unity for Clean Energy Convergence.  A monitoring program has been put into place to inform staff at the nearby elementary school and the surrounding community if elevated radioactivity occurs.  Moving forward, we will be focussing on the potential release of radioactive water into the Hudson River – an estuary from which seven communities take their drinking water.  While the radioactive water from Indian Point is treated before being discharged into the river, treatment only removes a portion of the larger isotopes but cannot remove tritium, which is part of the water molecule.  Clearwater is seeking to bring in experts on this and related topics to ensure the best possible outcome. The next DOB meeting is Dec. 7.
Environmental Bond Act:  This November New Yorkers will vote in a public referendum on an Environmental Bond Act for the first time in over 25 years.  Bond acts allow the State to take on debt to fund projects for a specific purpose.  As the global climate crisis worsens, the urgently needed the Clean Water, Clean Air, and Green Jobs Environmental Bond Act of 2022 will provide $4.2 billion in funding for Climate Change Mitigation ($1.5 billion), Restoration and Flood Risk Reduction ($1.1 billion), Open Space Land Conservation and Recreation ($650 million), Water Quality Improvement and Resilient Infrastructure ($650 million) and other climate solutions not yet allocated ($300 million).  At least 35% of the total funding must be spent in disadvantaged/priority communities.  Clearwater has joined a statewide coalition to do outreach and education to ensure this critical referendum is supported.  This is a great way to ensure progress continues toward fully implementing the Clean Water Act.   Mark your calendars now to remind yourself to turn your ballot over to support this EBA on Nov. 8.
Oct. 13 – Nov. 17:  Fall 2022 Municipal Solar Mapping Tool Training:  The purpose of the training is to empower municipalities to take a leadership role in implementing solar energy and other renewables, with storage and efficiency wisely.  Trainees will be able to work in their own municipalities to promote sound siting of solar and other renewables, and battery storage to ensure round the clock reliability.  All sessions are recorded, so if you need to miss one you can catch up easily and be ready for the next.  Details are here. Register here.  For further information:  mannajo@clearwater.org.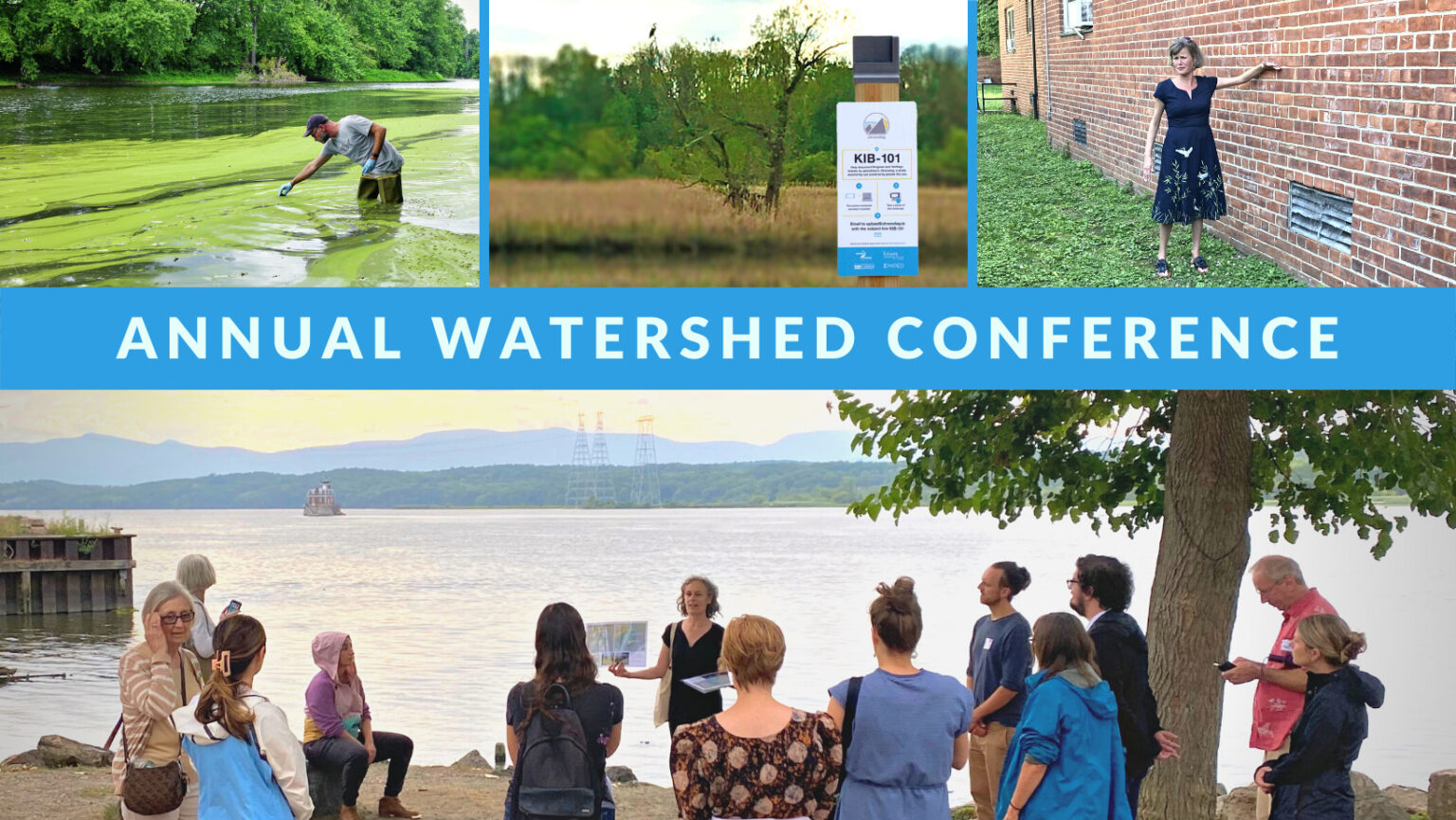 October 24, 25, and 26, Hudson River Watershed Alliance's Annual Watershed Conference:  Climate Change Impacts on Water in the Hudson Valley which will consist of a mix of in-person and virtual sessions on featuring Dan Shapley of Riverkeeper presenting on Oct. 25: "From drought to deluge: Water quality impacts and watershed community responses."  View the full conference agenda.
Across the watershed, communities are experiencing climate hazards including localized flooding, intense drought,  Harmful Algal Blooms, beach closures, wildfires, and other impacts on water resources. To further community understanding of climate change, its impacts, and how we can prepare for it, the conference will provide context on climate projections and risks, and will explore adaptation strategies and local case studies.   For more information and to register for the conference, visit https://hudsonwatershed.org/annual-watershed-conference-2022/