Clearwater is a grassroots organization built by individuals donating their time, energy and skills to preserve and protect the Hudson River and its communities. Volunteers are the life-blood and legacy of this great effort.  
Opportunities to volunteer with Clearwater are available year round in many different capacities. We are looking for volunteers to help us spread the Clearwater mission within their own communities and around the Hudson Valley. If you or anyone you know is interested in volunteering for Clearwater you can CLICK HERE to submit a general volunteer application to our Volunteer Coordinator.
Come join us! Volunteer with Clearwater! 
Please visit our Facebook page to keep updated on volunteer events and opportunities.
---
Upcoming Volunteer Opportunities:
…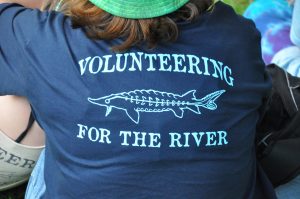 Calling all Clearwater Stewards:
Set up a table with information at colleges, conferences, farmers markets or other high-traffic locations and events to tell people about Clearwater.  You can self-train on your own time using our online presentation that will prepare you with the necessary tools for this important role as a Clearwater representative.  To register as a volunteer for one of the events listed below please e-mail Clearwater's volunteer coordinator at volcoord@clearwater.org
…
---
Onboard Volunteers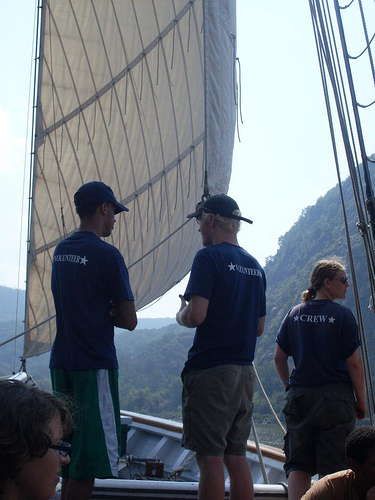 Clearwater seeks onboard volunteers with a passion for teaching, who love young people and are comfortable leading small group activities. You don't need previous sailing experience to volunteer with us, but a background in teaching, environmental issues, music or earth sciences are a plus.
Each week from mid-April to the end of October, the sloop Clearwater and the schooner Mystic Whaler, our sister ship, accept six volunteers to live aboard the boat, help sail our ship and teach our education program. Visit the Onboard Volunteer page for more information, or click here to apply.
Please email our Education Department at Educator@Clearwater.org  for more information
…
---
Volunteer for Clearwater Festival, Great Hudson River Revival!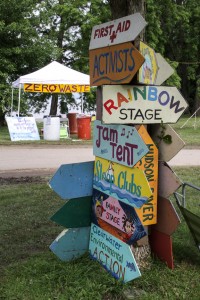 The 2016 Great Hudson River Revival is cancelled until next year.  We want to thank all of our tireless volunteers for dedicating their time and efforts again and again to help produce a wonderful festival.  We hope to continue with the tradition next year in 2017 and hope that you will all return as volunteers.  Until then, there are many ways for you to help Clearwater as we are hosting a concert series.  The next concert is on Feb. 27, 2016 at 299 Washington St. in Newburgh, NY please CLICK HERE for more information and to buy tickets.
To stay up to date with festival happenings or for more information, please visit the Great Hudson River Clearwater Revival page at clearwaterfestival.org.