Clearwater is a grassroots organization built by individuals donating their time, energy and skills to preserve and protect the Hudson River and its communities. Volunteers are the life-blood and legacy of this great effort.  
Opportunities to volunteer with Clearwater are available year round in many different capacities. We are looking for volunteers to help us spread the Clearwater mission within their own communities and around the Hudson Valley. If you or anyone you know is interested in volunteering for Clearwater you can CLICK HERE to submit a general volunteer application to our Volunteer Coordinator.
Come join us! Volunteer with Clearwater! 
Please visit our Facebook page to keep updated on volunteer events and opportunities.
Upcoming Volunteer Opportunities:
If you are interested in volunteering for any of these shifts please e-mail Shameika Hanson at Volcoord@clearwater.org.
A Rally in Peekskill
Who: Open to ALL
What: A rally/Speakers/Music/information gathering
Where: The Peekskill Riverfront Green Park
When: November 28, 2015
Time: 1:00 to 3:00 PM
Why: To unite voices and speak to World Leaders demanding more action on Climate Change Issues.
Specifically, we will be highlighting local environmental struggles here in Westchester that are negatively impacting us: Spectra AIM Pipeline
Volunteer Needs:
Outreach
Post flyers
Make phone calls
Post to Facebook page and other social media platforms
Art
Making banners
Organizing on site art at the event
Contact other artists
Securing speakers
Music
Contacting local musicians
Weekly planning meetings are held at The Black Cow Coffee House located at 4 Old Post Rd S, Croton-On-Hudson, NY 10520
All interested volunteers can contact:
Lisa Moir by e-mail at ljmsw@optonline.net
---
Winter Open Boat Sessions
Save the dates:
Session 1: Sat. December 12, 2015 from 4:00 to 8:00 PM
Session 2: Sat. January 16, 2016 from 4:00 to 8:00 PM
Session 3: Sun. February 21, 2016 from 3:00 to 7:00 PM
Session 4: Sat. March 19, 2016 from 4:00 to 8:00 PM
Session 5: Sat. April 23, 2016 from 4:00 to 8:00 PM.
Kingston Home Port, Kingston, NY
Click here to sign up to register as a volunteer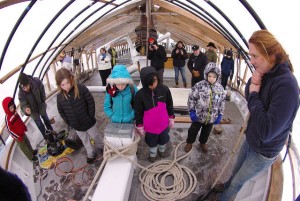 As a part of Clearwater tradition we will be hosting a series of Winter Open Boat Sessions in Kingston, NY. Winter Open Boats provide an opportunity to meet the crew and Clearwater staff, enjoy local music, and visit the sloop Clearwater as she winters at the Home Port. Crew members lead tours of the sloop as it undergoes restoration work, children will have the opportunity to engage in arts and crafts, and guests are asked to bring a potluck dish to share.
We need volunteers to lend a hand in the set up, execution and clean up of the day's activities. This includes anything from tabling to putting up signs and event helping kids to complete their craft projects. Volunteers are also needed to provide entertainment in the form of music, lectures and hands on educational opportunities. If you are interested in volunteering at our Winter Open Boat Sessions, please send an e-mail to our Volunteer Coordinator at Volcoord@clearwater.org.
…
Ongoing Volunteer Opportunities:
Help Clearwater Stop the Spread of Aquatic Invasive Species: Scientific Data Entry
Clearwater's Watercraft Inspection Steward Program has finished for the season, and we are now looking for volunteers to assist in transcribing data collected by the stewards. The data collected will help us determine common pathways for aquatic invasive species spread. Data entry will primarily be done at the Clearwater office in Beacon. Please email our volunteer coordinator at VolCoord@clearwater.org for more information.
…
Winter Sloop Restoration
Volunteer Maintenance Day
Sat. December 19, 2015 9:30 AM to 3:30 PM
Click Here for more information and to sign up to volunteer.
This winter, from November to April, volunteers will be welcome to work alongside the crew of the Clearwater under the direction of the maintenance coordinator in Kingston, NY. Volunteer help would be greatly appreciated for all of our typical annual maintenance (sanding, painting, cleaning, inspecting, and servicing all the parts of the vessel), which could fall by the wayside because of our focus this winter on the hull restoration project. In addition volunteers may be asked to help with dismantling the interior, and moving and organizing tools and lumber.
While volunteers will not have the opportunity to become shipwrights, rebuilding the centerboard trunk, or building or installing frames or planks, they may have an opportunity to help with and learn about those processes.
One project for which we will need a lot of volunteer labor is removing, keeping organized, then reinstalling our 13.4-foot-long tons (30,000 lb.s!) of iron ballast from the bilges. Stay tuned for dates!
Volunteer opportunities can be arranged for weekdays or weekends, with prior notice.
If you've got all the time in the world available, and would like to volunteer onboard full time, you should consider becoming a winter Ship Skills Intern. For a job description and how to apply, go to:http://www.clearwater.org/about/job-opportunities/ and look for "winter trainees."
…
Onboard Volunteers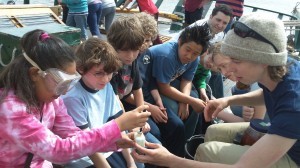 Clearwater seeks onboard volunteers with a passion for teaching, who love young people and are comfortable leading small group activities. You don't need previous sailing experience to volunteer with us, but a background in teaching, environmental issues, music or earth sciences are a plus.
Each week from mid-April to the end of October, the sloop Clearwater and the schooner Mystic Whaler, our sister ship, accept six volunteers to live aboard the boat, help sail our ship and teach our education program. Visit the Onboard Volunteer page for more information, or click here to apply.
Please email our Education Department at Educator@Clearwater.org  for more information
…
Volunteer for Clearwater Festival, Great Hudson River Revival! 
For festival-goers, the annual Great Hudson River Revival is a wonderful music and environmental event. But for volunteers, it's so much more! By volunteering, you become part of a warm, lively community that's connected to the Clearwater Festival in a special way, allowing you to share and celebrate our work for the river. Working as a volunteer and being a part of the festival's presentation will truly enhance your enjoyment of the entire weekend, so please consider becoming one of our great festival volunteers in 2016!
For more information, visit the Great Hudson River Clearwater Revival page at clearwaterfestival.org.
…