Clearwater is a grassroots organization built by individuals donating their time, energy and skills to preserve and protect the Hudson River and its communities. Volunteers are the life-blood and legacy of this great effort. Come join us! Volunteer with Clearwater!
---
Help Clearwater Stop the Spread of Aquatic Invasive Species!
Clearwater needs volunteers to help stop the spread of aquatic invasive species (AIS)! We are looking for volunteers interested in becoming:
AIS Watercraft Inspection Stewards: Provide educational materials for recreational boaters at our local Beacon boat launch, and offer voluntary boat inspections to recreational boaters before launching and after exiting the water. The most common way that aquatic invasive species are spread is as hitchhikers on boats. Our Invasive Species Program Coordinator will teach volunteers about aquatic invasive species identification and boat inspection protocol. Volunteers are needed on weekends between June 5 and September 7.
AIS Surveyors: Survey your local waterways for aquatic invasive species, including the dreaded Hydrilla verticillata – an aggressive aquatic invasive plant recently discovered in the Croton River System. Our Invasive Species Program Coordinator will be leading AIS survey trainings throughout the spring and summer. Trainings will teach aquatic invasive species identification, surveying methods, and data collection protocol. We have surveying rakes available, and can also teach you how to build your own for under $30.
By volunteering to be an AIS Watercraft Inspector or an AIS Surveyor, you can help keep our local waterways beautiful by stopping the spread of aquatic invasive species.
If you have any questions about Clearwater's new Invasive Species Program please contact Samantha Epstein, our Invasive Species Program Coordinator, at invasives@clearwater.org. If you are interested in becoming an aquatic invasive species volunteer, please contact Shameika Hanson at volcoord@clearwater.org.
For more information about Clearwater volunteering, please contact Clearwater's volunteer coordinator Shameika Hanson at volcoord@clearwater.org or 845-265-8080 ext 7160.
 …
Onboard Volunteers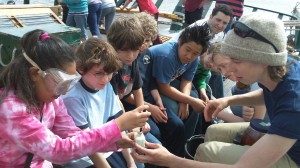 Clearwater seeks onboard volunteers with a passion for teaching, who love young people and are comfortable leading small group activities. You don't need previous sailing experience to volunteer with us, but a background in teaching, environmental issues, music or earth sciences are a plus.
Each week from mid-April to the end of October, the sloop Clearwater and the schooner Mystic Whaler, our sistership, accept six volunteers to live aboard the boat, help sail our ship and teach our education program. Visit the Onboard Volunteer page for more information, or click here to apply.
Please email our Education Department at Educator@Clearwater.org  for more information.
…
Help with Scientific Data Entry
The Hudson River Sloop Clearwater has become a platform for scientific research of fish and zooplankton in the estuary. Marine scientists from the Acoustic Laboratory of Ecosystem Studies (ALES) at Stony Brook University have partnered with the sloop to monitor the Hudson's biological community. We are looking for a volunteer to assist with transcribing historical fish trawl records into a digital format for research purposes. Basic Excel skills and an attention to detail are necessary. Data entry will primarily be done at the Clearwater office in Beacon, with the possibility that some data entry will need to be done aboard the ship. Please email our volunteer coordinator at VolCoord@Clearwater.org for more information.
…
Volunteer for Clearwater Festival, Great Hudson River Revival!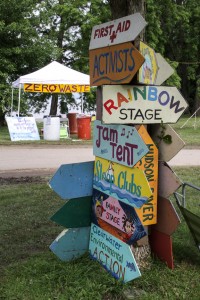 For festival-goers, the annual Great Hudson River Revival is a wonderful music and environmental event. But for volunteers, it's so much more! By volunteering, you become part of a warm, lively community that's connected to the Clearwater Festival in a special way, allowing you to share and celebrate our work for the river. Working as a volunteer and being a part of the festival's presentation will truly enhance your enjoyment of the entire weekend so please consider becoming one of our great festival volunteers in 2016!
For more information, visit the Great Hudson River Clearwater Revival page at clearwaterfestival.org.
…
Other Volunteer Opportunities With Clearwater
Volunteering opportunities with Clearwater are available year round in many capacities. From general office help to tabling at events, we need and treasure our volunteers. To help us find a good fit for you, please email our volunteer coordinator at VolCoord@Clearwater.org for more information.
"Whether volunteering as an educator, in the office, or on maintenance, the experience has always been worthwhile, rewarding and personally fulfilling. It's a wonderful opportunity to support a great organization in advancing the reclaimation and preservation of a majestic river and preparing environmentally conscientious citizens and leaders for the future." – Frank Puzzo