A pioneer in environmental education, Clearwater has opened the hearts and minds of over half a million people to the natural treasures and environmental challenges of the Hudson River Valley.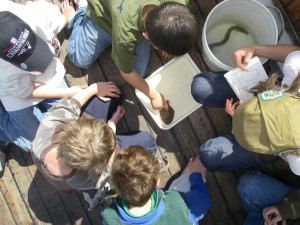 The brainchild of folksinger and river advocate Pete Seeger, the sloop Clearwater is both a vivid reminder of the Hudson's rich history and a cultural icon for environmental awareness. The replica vessel Clearwater is inspired by the hard-working sloops of the 19th century, depicted in their day by artists of the famed Hudson River School. The amazing Hudson River School landscapes helped America re-frame its perceptions about nature, setting the stage for modern environmental thought.
Clearwater's "Sailing Classroom" provides students with powerful hands-on learning experiences that connect them to their communities and to their environment. The sloop Clearwater,  the schooner Mystic Whaler, and the Hudson River all provide  dynamic learning tools.  The boat and our crew open the students to the exciting learning opportunities that the Hudson River can provide, and Clearwater's interactive education programs provide hands-on learning to engage students and promote "learning by doing." Students and educators can chart a course for environmental leadership through Clearwater's menu of educational experiences, and acquire skills to last a lifetime.
A variety of educational options are available through:
All programs are centered on transforming students of all ages into the environmental stewards of the future, and fostering a connection with their environment.
For educators considering booking one of Clearwater's programs, check out our Teacher Resources page that offers lesson plans and resources on the Hudson River to help you prepare and plan for your upcoming Clearwater program.
……………………………………………………………………………………………………………………..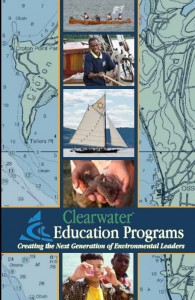 See Clearwater's Education Program Book for a comprehensive overview of our educational programs.
Clearwater's education programs are aligned with the Common Core Standards. Click here for an overview of how Clearwater programs are aligned with Common Core standards through experiential education practices!
……………………………………………………………………………………………………………….
Philosophy
Clearwater believes that if we want our kids to become environmental leaders, then we have to provide opportunities for them to experience the natural world first-hand. Our philosophy of education supports the model of  "No Child Left Inside"- if you connect kids directly to an ecologically and historically important resource, they will become more open and motivated to learn and care about the world that surrounds them. Today's kids are often too insulated from nature by the electronic devices, text messaging, gaming, and social networking that can saturate their lives.
Noted author Richard Louv (Last Child in the Woods) used the term "nature deficit disorder" to link a host of issues including attention disorders, obesity, and depression to a lack of experience with nature.  Clearwater believes that No Child Left Behind's emphasis on testing must be balanced with active engagement with the natural world.