Join us next Thursday, 10/21 at 7:00pm
as we launch our event in the inaugural Sustainable Hudson Valley,
Climate Solutions Week
.
We know that climate change is a problem. Join Clearwater and a panel of experts from all over the Hudson Valley to learn about why young people are an indispensable part of the solution. It's never too early to make your voice heard in the fight for a more equitable and sustainable future.
A virtual panel, entitled "
Climate Change and You(th)"
will focus on how organizations and leaders build community with and inspire young people to engage in climate action! Additionally, i
f you know youth aged 16-24 who are interested in joining the movement against climate change, have them join too!
If you have any questions, please reach out to Outreach & Engagement Manager at
amali@clearwater.org. 
We hope to see you there!
---
For Educators: 
Consider offering attendance as a homework assignment or even as an extra credit opportunity if you are looking for ways to show your children or students how they can be a part of a movement, interested in incorporating environmental justice issues into your classroom, or want to expose students to careers path that will make a positive difference in their communities!
1).

Jen Metzger
, 
former New York State Senator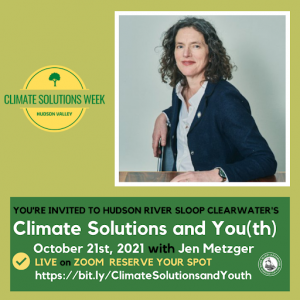 2).

Joel Rodriguez
, Sustainability Education Manager,
Groundwork Hudson Valley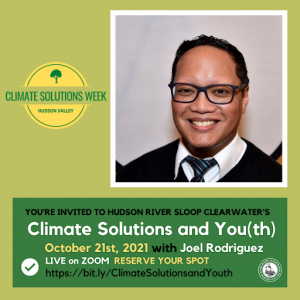 3).

Jalal Sabur
, Environmental Justice Educator,
Kite's Nest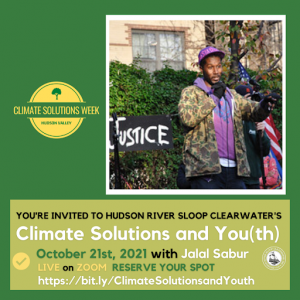 4).

Matt Salton
, Environmental Action Associate,
Clearwater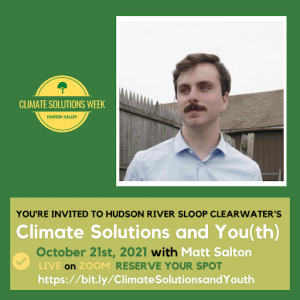 5).

Laurel Zaima
, Education and Outreach Coordinator,
Lamont-Doherty Earth Observatory