September 2021
Dear Friends of Clearwater,
There is a magical moment aboard the sloop, after you've left the dock, when the Captain turns off the engine and the boat does what it was built to do — sail. In the sudden quiet you hear the water lapping, the sloop's wooden hull creaking, and the rig responding to the breeze. You feel the boat's energy shift. On one sunny Saturday this summer the sounds included an excited 10-year-old voice: "This is the best day ever!" And that was before this child had met his first hogchoker, or placed his hand on the sloop's tiller.
That Best Day Ever happened because of Clearwater members and supporters like you, who believe, as Pete Seeger said, "If you want people to care
about the river, you have to teach them about the river."  This is Clearwater's core mission: connecting people of all ages to the Hudson River. 
The past year may have looked a bit different because of the pandemic, but our commitment to this mission remains firm: Clearwater encourages lifelong stewardship of the Hudson River by educating, inspiring action, and celebrating the mighty river. 
We are asking you today for a contribution so we can continue our important and inspiring work on the Hudson. Your gift will help us: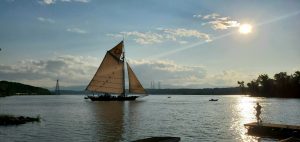 Maintain our 18th century sloop.

Advocate for clean energy investments and oppose the Danskammer fracked-gas energy plant on the banks of the Hudson near Newburgh.

Deliver award-winning hands-on educational programs for children of all ages. 

Celebrate the river and our community through word and song.

Ensure access to a clean river for all.
For 52 years Clearwater has been a symbol of hope, resilience, and perseverance, never more than in this COVID-buffeted year. Your gift today will help sustain us through this tough time to welcome and inspire voyagers young and old in seasons to come.  
Sincerely,
Steve Stanne and
Joan Gaylord
Acting Co-Executive Directors