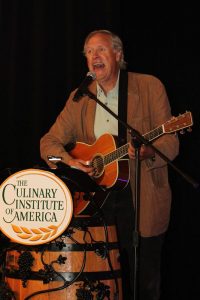 Clearwater's great friend Tom Chapin emceed Chefs for Clearwater 2017, and we're excited to announce he'll be back for an encore performance this year.
In a career that spans five decades, 25 albums and three GRAMMY® awards, Tom has covered an incredible amount of creative ground. In addition to his work as a recording artist and concert performer, Chapin has acted on Broadway and worked extensively in films, television and radio.
As a music-maker, the multi-talented singer/songwriter/guitarist has maintained two long and productive parallel careers—as a highly respected contemporary folk artist and as a pioneer in the field of children's music. In both, Tom has established a reputation for insightful, heartfelt songcraft and effortlessly charismatic live performances. He continues to engage the hearts, minds and imaginations of young listeners with witty, life-affirming original songs delivered in a sophisticated array of musical styles. In either format, Chapin's infectious songs, sterling musicianship and personal warmth consistently shine through.
This year, the Chefs for Clearwater event — at The Culinary Institute of America in Hyde Park on October 14— will feature remarks by John Ubado, a former Wall Street banker profiled in the award-winning documentaryThe Bullish Farmer, and an amazing meal prepared by six celebrated Hudson Valley chefs.
Tickets are available at chefsforclearwater.org.