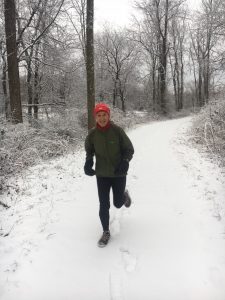 DONATE TODAY
please select "Alicja's Run for Clearwater" from the donation menu"
Alicja Barahona runs for charity. She is a pinnacle of outdoor adventurism, athleticism and most of all, philanthropy.
As an ultra marathoner, she was described in riveting detail by Chuck Slater in the New York Times on January 27, 2002 who ended the article with this:  "To date, she is the only woman in the field."
Alicja has run in the arctic wilderness in Greenland for Doctors without Borders. She accumulated 1,200 running the long way across Long Island for 10 years for Breast Cancer Awareness. She did it for her friends, and now she wants to run for Clean Water Now, Clearwater's mission to protect the watershed in every way possible.
Her adventure for Clearwater takes place beginning on March 7th at Baikal Ice Marathon, in Siberia, Russia, one of the world's oldest, and largest, as well as deepest lakes. Baikal contains 20% of the world's natural freshwater resources. Alicja will join hundreds of world famous marathoners and, after the marathon, will stay to cross the 50 mile width of Lake Baikal pulling a sled! Next year she will run pulling a sled with supplies to survive her two-week 400 mile run across Lake Baikal.  Support Alicja's marathon by donating to Clearwater's Clean Water Now campaign today. Alicja's feat launches Clearwater's Take up the Slack initiative to engage more businesses in the work of environmental activism and education pioneered by Hudson River Sloop Clearwater. Support Alicja Barahona in her magnificent endeavor for Clean Water Now!