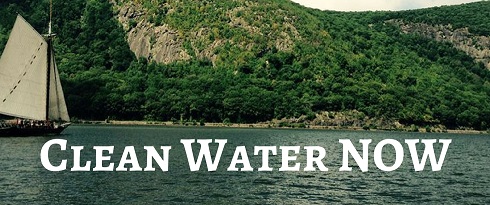 For decades, Clearwater has spoken truth to power about issues that threaten clean water. We cannot let our hard won environmental progress be stalled or rolled back. Too much is at stake.  Together, we need to lean in and keep up the pressure.  
---
Thanks to you, we have accomplished a great deal in the past year:
Clearwater is working with community members, allied organizations and local officials in the City of Newburgh.
Indian Point nuclear reactors now scheduled to close in 2020 and 2021!

More than

9,000 young people sailed

aboard

Clearwater

this year.

The

launch of our new research and education curriculum on marine debris

has established Clearwater as the regional expert on microplastics education in the Hudson.
There is much more work to be done to keep our Hudson River clean.
Please consider making a gift to Clearwater today.  Your donation will support our continuing efforts to:
Fight for clean water and a healthy Hudson, including a comprehensive clean-up of Hudson PCBs;

Hold EPA accountable to their mission of protecting our environment;

Empower a new generation with the tools to confront and mitigate against today's pollution problems and the underlying causes of climate change;

Secure a comprehensive clean up of Hudson PCBs; and

Ensure the safest possible decommissioning of Indian Point and a just transition for displaced plant workers.
Your gift, as always, will make a big difference in helping us continue this important work.
 Thank you for your generous support!
Sincerely,
Betsy Garthwaite
President, Clearwater Board of Directors