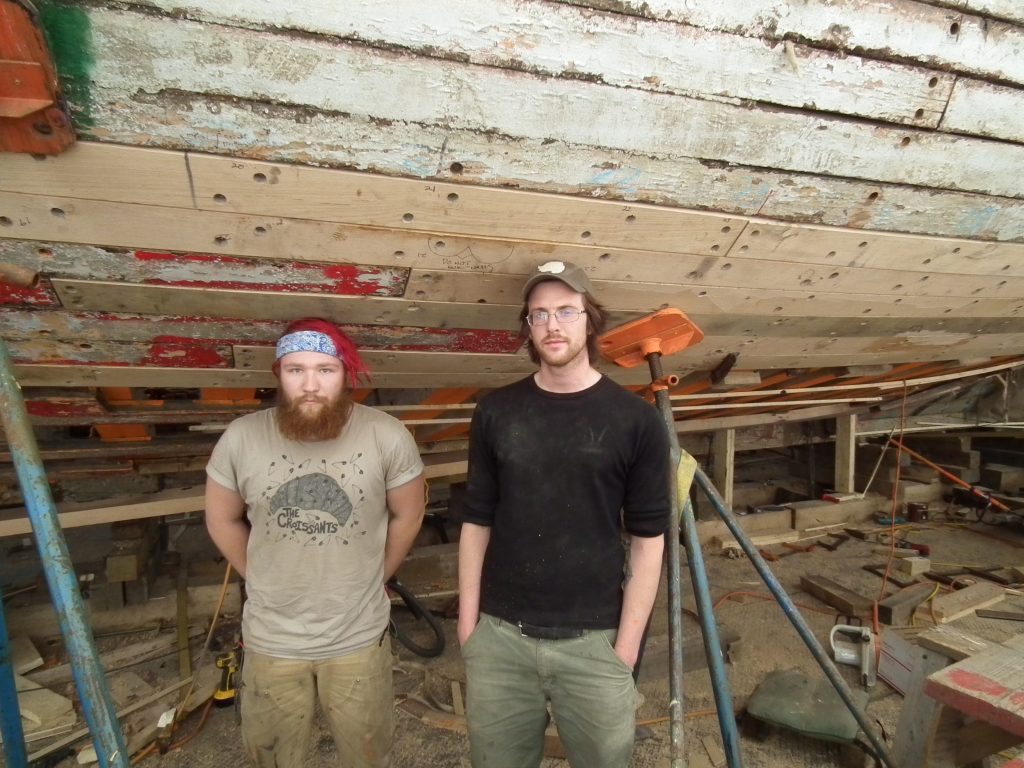 BEACON, NY– Every year, The Hudson River Sloop Clearwater attracts a new sailing crew from around the world. This winter's hull restoration project, which began in October 2015, requires unique shipbuilding skills to restore our iconic vessel. Among the skilled craftsman is Garett Eisele, 26, a caulker from Maine. Eisele came to Clearwater after working on a research vessel in Antarctica. Caulking is the process of driving fibrous materials into the wedge shaped seams between boards. The oldest form of caulking is the type used on wooden boats. Eisele said, "Clearwater offers a great program that preserves traditional skills and makes jobs available in the Hudson Valley".
In preparation for the spring sailing season, Kyley Smith, 22, will be taking the position as Bo'sun aboard the sloop. Smith joins Clearwater from Washington, where he worked aboard the Hawaiian Cheiftan. He heard about Clearwater's mission from another tall ship sailor and was interested in getting involved. Smith arrived early for the sailing season and will be learning new skills to help work on the ship's hull. "I wasn't expecting to see the sloop in this state, but it's exciting. I have already learned so much in the two days that I've been here. I look forward to seeing how she sails and teaching kids on the Hudson River.", said Smith. As Bo'Sun, short for Boatswain, Smith will be responsible for daily vessel operation and deck maintenance.
Clearwater is a replica of the sloops that sailed the Hudson in the 18th and 19th centuries. Clearwater's crew uses many of the same tools and techniques used by shipbuilders when sloops were a common sight on the Hudson River. Visiting Clearwater's restoration is like stepping back in time, when working on wooden ships was commonplace. Now, a rare profession, shipwrights don't often get to work in their trade in the Hudson valley.
Clearwater offers daily volunteering opportunities for community members to gain skills working on the sloop. The following are tasks that the first mate with teach: Pay seams, spin oakum, paint the hull with bottom paint (primer coat). Contact mate@clearwater.org to learn more and volunteer on the sloop.
During the sailing season, sloop Clearwater serves the Hudson River with unique education programs where the focus is experiential.  Students come aboard and learn about Hudson River ecology, history and navigation.