The Dynamic Energy that Keeps the Sloop Sailing
By Isaac Santner, Onboard Educator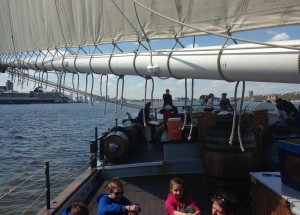 I am writing this post from the main cabin of the sloop during a 30 mile transit from Yonkers to West Point, NY. This morning, we sailed with a ninth grade group out of Yonkers. Many of them had been on ferries or fished in ponds, but for most this was their first time sailing. There is an awesome moment during these sails when students come together and "2-6 HEAVE" the boom up the mast. Some groups struggle, pulling and pulling, out of sync, for many minutes. This group, however, came with a surprising quiet strength, and in ten quick pulls, got the boom further up the mast then I have seen all season. Watching and helping new sailors discover that satisfaction of looking up the tall mast and seeing that they just pulled up this sail, all 3,000 pounds, is second to none on the sloop Clearwater.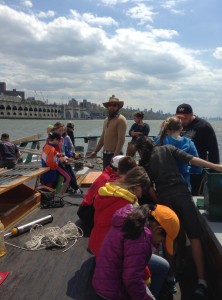 This morning, we helped new sailors on their first trip out on the river. This afternoon, we have a long day of transiting… This is another time when I love watching the crew work together. Education Interns, who are trained by the deckhand, train the new volunteers and apprentices on how to stand bow watch. I wonder how many crewmembers, apprentices, interns, and volunteers have stood on the bow, keeping the boat safe from oncoming traffic and obstacles.
As we train the new crewmembers, and they become comfortable onboard, I think of the energy that each new week brings. The bridges we have passed under a hundred times over the years become new teaching opportunities, as seen through the new eyes of our newest crewmembers.
Without our sloop volunteers, we could not run our programs logistically. I wonder if we could run our programs without the energy that new folks bring to the boat every week. In many ways, that energy, excitement, and wonder that new sailors, students, volunteers, and crewmembers alike bring to our ship is our lifeblood during our long Hudson River days.