– Julie Gilgoff, Mystic Whaler Education Intern
" There is absolutely nothing – half so much worth doing as simply messing about in boats"         – Kenneth Grahame, A Wind in the Willows
As a child, I got a post card with that quote written on it. I thought it was funny and so I hung it up on my bedroom wall.
It wasn't until I was at the 2010 Clearwater Festival that I saw those words again, on a poster by the "Rainbow stage." I was reminded of what drew me to live on board the Mystic Whaler for the past 2½ months, teaching the Clearwater education program. Reading the quote over again, I thought it was funny for different reasons.
I would hardly consider what I did on the boat "messing about." Yes, there was time for music, laughing and eating, but the majority of what we did each day was hard work. There were long days without breaks.
There were high points too. Swimming in the river that I grew up thinking was completely gross and polluted. I began to believe, just as I was teaching the students, that the Hudson River was one of the most beautiful rivers in the world. During one of our long transits from Kingston to Manhattan we passed green rolling hills that reminded me of the landscape of the Mekong River. Why did I have to travel so many thousands of miles to see natural beauty in Asia when the Hudson was in my own backyard?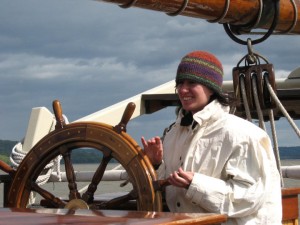 After the workday ended, I would often have the songs that broke our silent sails stuck in my head:
"Maybe it's the moonshine, Maybe it's the starlight, Reflected in Haverstraw Bay"
 It was so cool to walk along the shore of Haverstraw Bay on the way to the dock and point out to my students the pieces of clay that were made into bricks in the factories, still buried in the sand. There were little bits of living history everywhere.
"With the sun setting golden over the Palisades, Afternoon ends and daylight fades"
 I loved to teach geology as we were passing by the Palisades. I'd pick up a sample of Diabase rock and show the kids what the Palisades were made of. We talked about how the igneous rock Diabase was quarried to make roads
 "And I could be happy just spending my days, On the River that flows both ways"
No….I don't think that I could be happy spending the REST of my days on a boat. But it was an enriching experience that I will never forget. I left the experience with the highest respect for the Clearwater organization, which brings people together through song, love and ongoing efforts to keep the river clean.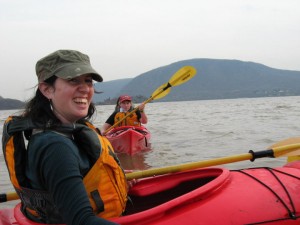 -Lyrics by Rick Nestler