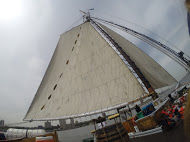 By Jacinta Early, Onboard Educator
It is a strange feeling when you suddenly stop doing something you have been doing for six months straight – especially something so profound that consumes your entire life with fun, joy, culture, and 12,000 kids a year. Then as suddenly as you stopped, three months later you jump right back into the thick of it as if you never pressed pause. This is how it was for me after heading back to Australia last fall for my visa renewal, while the winter crew made sure that the boat was ship-shape for the 2014 sailing season.
We always talk about a "typical day" onboard. Whether it be myself while on the phone to a potential volunteer talking about a "typical day" during a "typical education sail," or the captain doing their speech about what the "typical day" during this "typical week" will be like for our new batch of amazing volunteers. I can tell you that this typical day is not very typical at all; in fact it is uncharacteristic of our sails. I say this not because it is a bad thing, in fact, I can only really think back to two times that I have had what is a typical sail on a typical day.
This is something that I always love about the Clearwater: we never have a typical day. It is always something different that challenges you, makes you think on your feet. That is probably why so many people gravitate towards us. We aren't a 9-5 job; we are a "wherever-and-whenever-a-program-needs-us" job. We don't drive to work every day; we sleep in our workplace and sail it to our clientele. We don't go out to lunch by ourselves during our lunch break; we muster in the main cabin making each other laugh and planning out the second half of the day together. We don't go home to watch tv alone; we play music together because we live and work in our home. The sloop Clearwater is a place that is over 10,000 miles away from where all my family are, but the Clearwater allows me to show over 12,000 kids a year my new home and my new family – my Clearwater Family.