Clearwater sets up themed learning stations, which allows for students to benefit from learning in a small group. During a three hour sail, students will rotate through four of these stations that are set up around the boat. The 4 core stations are provided unless you specifically have requested one of our elective stations. Clearwater sail programs are suitable for grades 4 through college. With a variety of stations to choose from, we can tailor the content of each learning station to your group. See station descriptions listed below.
Core Stations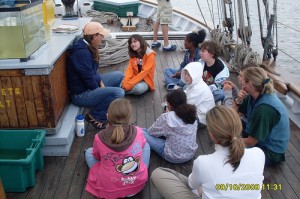 Life Station: Students get a close up, hands on experience with the fish and other live river creatures. Students learn to identify a variety of aquatic species using dichotomous keys.
Indigenous Peoples Station: Students explore the Hudson Valley past and present through the perspective of Indigenous Peoples. Puzzles, maps, and artifacts are used to engage students in this exploration.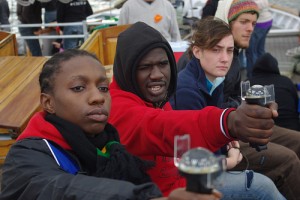 Navigation Station: Everyone gets to stand at the helm of this 106-foot wooden ship and learn how their efforts at the tiller change the course of the entire vessel! They also examine nautical charts, compasses, and other tools to understand how a captain navigates the waters of the Hudson River.
Water Quality Station: Students determine the health of the Hudson River's water by doing a few simple water chemistry tests. After making observations and hypotheses about the water, they perform tests on salinity, dissolved oxygen, turbidity, and pH levels.
In the core stations, students will have the opportunity to meet the following grade level appropriate New York State standards:
Life
Water Quality
Navigation
Indigenous Peoples
Grade 4
Science:
4-LS1-1
4-LS1-2
Math:
4.NBT1
4.NBT3
Science:
4-ESS2-2

Math:
4.MD5

Social Studies:
Standard 3; Key Idea 4.1a

ELA:
4R7


Social Studies:
Standards 1, 3, 5; Key Ideas 4.2a, 4.2c

ELA:
4R7
4R9




Grade 5
Science:
5-LS2-1
Science:
5-PS1-4
5-ESS2-2

Math:
5.NBT1

ELA:
5R7
Science:
5-ESS3-1

Social Studies:
Standards 1, 3; Key ideas 5.1b, 5.1c
Grades 6-8
Science:
MS-LS2-3
MS-LS2-2
MS-LS1-4

Science:
MS-LS2-4

Math:
6.RP3c
8.EE3
8.EE4

Science:
MS-PS2-2
MS-PS4-3


Math:
7.G1

Science:
MS-PS1-3
MS-ESS3-4

Social Studies:
Standards 1, 2; Key Ideas 7.1a, 7.2b
Grades 9-12
Science:
HS-LS2-3
HS-LS2-4
HS-LS2-6
HS-LS4-5

Science:
HS-PS1-10
HS-PS1-11

Math:
HS NQ1
HS NQ3

Social Studies:
Standards: 1, 4, 5; Key Ideas 11.10b, 12.G3c, 12.4e

Science:
HS-ESS1-7

Math:
HS N-VM3
Science:
HS-ESS3-1

Social Studies:
Standards 1, 2, 3, 5; Key Ideas 11.1a, 11.10b
During small group discussions in stations, students will have the opportunity to meet the grade level appropriate standards for speaking and listening, and language standards as new vocabulary is introduced.
Elective Stations:
Sail Physics: Students learn how wind can be harnessed to propel a vessel like Clearwater along the river. By observing a foil, such as the 3,000 square foot mainsail above their heads, and feeling the wind on their faces, they learn how the high and low pressures around them create lift and move the ship.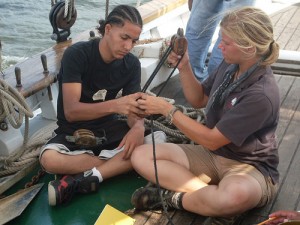 Simple Machines: Students identify the simple machines found all around the boat and learn how necessary they are to a sailor's life. They test the advantages of levers and pulleys through interactive games and learn the mathematical relation between what is gained and sacrificed with the use of these tools.
Knot Tying: One of our professional sailors demonstrates a few important knots used onboard ships. Students learn the variety of uses for different knots and practice tying them with the help of our salty crew.
Art Station: Students learn about the Hudson River School Painters, their significant role in American history, and study their paintings. Students see how an artist can inspire a sense of ownership for a place and help protect our beautiful natural resources. Students have an opportunity to create their own work of art.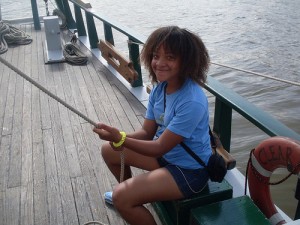 Climate Change Station: Students learn about the environmental challenges facing us today and in the future. They learn how their actions can positively or negatively affect the Hudson River and the greater global system.
Geology Station: Students observe their physical surroundings and understand how the river they are sailing on, the mountains surrounding them, and the rocks in their hands were created. Connecting glacial actions that took place thousands of years ago with the quarry onshore, gives students an understanding of our connection with the natural environment.