Danskammer Update:
Article 10 Siting Board Public Comment Hearing overwhelmingly opposed the proposed Danskammer fracked gas expansion: On March 31 more than 300 people signed up to speak. In 9 hours of public comment to PSC, 94% of which opposed the Danskammer expansion. There were so many people that only about half got a chance to speak. Out of the 186 speakers, 175 opposed this so-called "repowering" project. Fortunately, we are still able to submit written comments through August of this year. Please add your voice to the over 11,000 written comments thus far!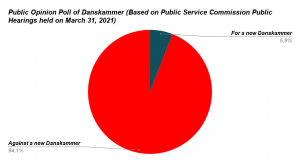 What you can do to help: Please submit comments on Case # 18-F-0325. They can be simple and from the heart. Go to:
http://documents.dps.ny.gov/public/MatterManagement/CaseMaster.aspx?MatterSeq=56697&MNO=18-F-0325. Click on Post Comments. If more than 3,960 characters you can add an attachment. You many also send comments by email to the Secretary to the Siting Board at secretary@dps.ny.gov. Alternatively, comments may be mailed to the Hon. Michelle L. Phillips, Secretary, New York State Board on Electric Generation Siting and the Environment, Three Empire State Plaza, Albany, New York 12223-1350.
Great News: In the past two weeks, Ulster County Executive Pat Ryan has announced an Executive Order Supporting Prevailing Wage for all Renewable Energy Projects and issued a Letter to the Siting Board Opposing the proposed Danskammer fossil fuel-burning facility.
Also, the Article 10 Board on Electric Generation Siting and the Environment is currently accepting PRELIMINARY STATEMENT OF ISSUES from participating parties. Issues, which are likely to prove this so-called "repowering" proposal to be unnecessary, inconsistent with NY's aggressive Climate Act, harmful to the environment and public health, and for which there are much better alternatives, include:
Consistency with State Energy Policy and Long-Range Energy Planning Objectives including the CLCPA
Renewable Natural Gas (RNG) and/or Hydrogen Combustion
Project Need and/or Resource Adequacy
Project Emissions
Alternatives Analysis
For more information on how to help stop this ill-conceived proposal, located on a flood-prone peninsula just north of Newburgh, which would burn fracked gas, exacerbating Climate Change for decades, please see: https://stoptheplant.org/ or https://www.facebook.com/StopDanskammer/