Danskammer Public Hearing's High Turnout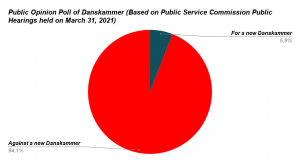 The public hearing over the proposed Danskammer expansion garnered over 300 participants! There were so many people that only only about half got a chance to speak. Out of the 186 speakers, 175 were opposed. Fortunately for those who did not get a chance to voice their concerns, you are still able to submit written comments. Please add your voice to the over 10,900 written comments thus far here.
To submit a public comment on the Public Service Commission website, go to http://documents.dps.ny.gov/public/MatterManagement
Click on "Post Comments."
Fill out the information, write your comment in the box provided, and click "Post Comment"
You can also attach an additional file if you'd like to submit a longer comment.
To submit a comment by email, please email it to the Hon. Michelle L. Phillips, Secretary to the Commission, at secretary@dps.ny.gov.
To submit a comment by mail, please send to:
Hon. Michelle L. Phillips
Secretary to the Commission
New York State Public Service Commission
Empire State Plaza
Agency Building 3
Albany, NY 12223-1350