Black Voices of the Hudson Valley: Past and Present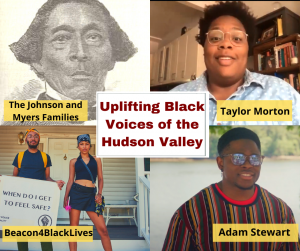 Clearwater stands firm in the continued fight for Black lives, knowing that there cannot be climate justice without social justice.
As we celebrate Black History Month, we are reminded that each one of our roles in this fight is needed now more than ever.
Our founder, folk musician Pete Seeger, learned this song and the words often, and we steadfastly believe, "We Shall Overcome."
We're encouraged by the progress we're making. Following the
Our River Connects Us
campaign to unite the valley and lift up voices unheard, we aim to continue to be dedicated to highlighting some of those voices you might not have heard, past, present, or future.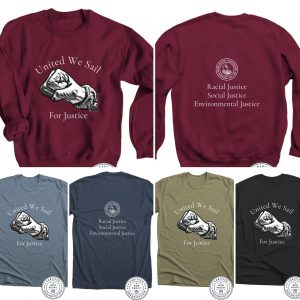 Clearwater is excited to launch this special fundraiser during Black History Month! It is important for Clearwater to use our platform to amplify organizations led by and for people of color. A portion of the proceeds from each item will go to education programs at our respective organizations for students in Harlem and the Hudson Valley. We greatly admire WE ACT's work and look forward to collaborating on programs centered around social justice and climate change, while honoring Clearwater's mission to raise environmental awareness by bringing students sailing on the river.
Historical Black Mariners of the Hudson Valley
Captain Abraham Johnson was a freed African American who, along with his wife and their five children, owned and operated sloops on the Hudson River dubbed, The Miriam and The Jane of Albany. Abraham appointed his son, John Johnson, as captain of the sloop Miriam, which traveled between Albany and New York City for trade.
Captain John Johnson built a house that would come to be known as the
Stephen and Harriet Myers Residence
in Albany where his sister Harriet Myers née Johnson and his brother-in-law Stephen A. Myers lived.
Myers was a former slave and an active abolitionist. The house that Johnson built became the headquarters  for the abolitionist Vigilance Committee, an anti-slavery newspaper, and a stop on the Underground Railroad. 
For additional information, please visit the following websites:
Thank you to our friends at the Underground Railroad Education Center in Albany. Please check them out if you're in Albany!
Black Voices of the Valley Today
Taylor Morton, WE ACT
Taylor Morton (@_taymo_) is the Environmental Health and Education Manager at WEACT for Environmental Justice (@weact4ej), an organization based in Harlem committed to building healthy communities by ensuring people of color and low income residents have the ability to participate in the creation of sound and fair environmental health and protection policies. Thank you Taylor for sitting with us for TWO zoom interviews, presenting at our annual conference, and continuing to engage with us on how we can support your critical work!
"[I]n a place like New York City or any city really there is a benefit to having green space. Apart from having a place to exercise being able to move and engage with different green spaces has a benefit to mental health. Parks are a space where events are held, where people can commune, really contributing to the social hub of a place. Quality of a green space, not just having a space present, is also a big environmental justice issue. What does it mean to have a park that is really large but some of the places aren't physically safe for kids to go out and play. Some of the parks may be closer to a highway, exposing park goers to higher emissions. Access is great, but condition and quality really makes a difference. New York has a lot on inequities in the built in environment, and that includes the way green space have been built and created. We can think about, Robert Moses and the history of communities of color being removed to preserve the benefit of green spaces for some groups more than others. All of these issues compound when we add a pandemic on top of problems that have existed for many many years. What we deal with a lot is the general meaning of what it means to be policed in a place, in a green space, that means you're being hassled or harassed for not wearing a mask, when they are being handed out to others in a different area. We have a COVID Resource Guide, which has a lot of information about hours for green spaces and where to access certain things, as numbers to call for other resources people in our community need. We take ownership in our work, and really try to put our community members first…we want our work to remain community centered…they are the crux of what we mean when we say justice."
Justice McCray, Third Generation Founder, Beacon4Black Lives
Justice and his organization have been creating organized efforts including protests, community discussions, and more.
"Each of us has a voice and whether or not we think it can be useful, whether or not we think we have the power to change, I can tell you with certainty that we do. You can sit at home and say, "I wish things were different," but that doesn't make a difference. Going out there, using your voice, using your power, whatever it may be, using whatever resources you have to your advantage to make that change, that's what makes the difference."
Adam Stewart, Doane Stuart School

Adam Stewart, a teacher at Doane Stuart School in Albany, stood with us by the banks of the Hudson River to discuss his experiences with Clearwater, how he discussed the pandemic and social unrest with his students even during the summer months, and what makes him hopeful in this time of separation.
"I was approached by a couple of educators, Brother Yusef was one of them, to participate in Young Men at the Helm (one of Clearwater's Youth Empowerment Programs). We went from Beacon to Yonkers, it was incredible, I saw New York from the river as opposed to the road. We were able to camp out and learn skills on the sloop. My group really resonated with the education on board, cooperation, introspective activity. I came back the next year as a week-long volunteer, and then the next year as a crew. I met a lot of people who's legacy was intertwined with the boat…so many people with so much fire and passion for the boat. And I was a part of that, and now I can spread some of that boat cheer to people. I think a lot of the values they teach resonate with me and shape how I teach in the classroom now…about people and connection, compassion and empathy. It was obvious that we needed it in the classroom now. The Clearwater is an environmental justice vessel, [getting] more people of color, people from diverse backgrounds, teaching [ecology, sailing, community building] through compassion and empathy, but also through fun!"