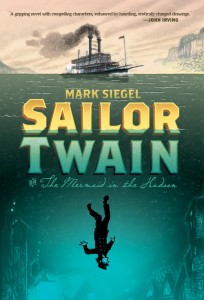 Join Clearwater for a special sunset sail- featuring complimentary wine and refreshments- on Friday, October 5th to celebrate the publication of Mark Siegel's Sailor Twain: Or the Mermaid in the Hudson, the popular graphic novel about the Hudson River, steamboats, and a bewitching mermaid. The saga of Sailor Twain, set in 1887, chronicles the adventures of Captain Twain aboard his steamboat, The Lorelei, and the mythical siren that casts a spell over him and his crew. Rich with the romance of the Hudson River of the 19th Century, Sailor Twain has captured the imaginations of its many fans.
John Irving calls Sailor Twain "a gripping, compelling novel with compelling characters, enhanced by haunting, erotically charged artwork."
The Sailor Twain Sail aboard Clearwater departs at 5:30 PM on October 5th from the 79th St Boat Basin in New York City. 1880s PERIOD COSTUMES WELCOME ABOARD!
Tickets are $50 for adults and $35 for Clearwater members. Click here to purchase your tickets, or contact Catherine Stankowski at 845 265-8080, ext. 7107, to make your reservation. Please note: this sail is not recommended for younger children.
Please visit www.sailortwain.com to see pages from Sailor Twain: Or the Mermaid in the Hudson.