In a Labor Day editorial, the Albany Times Union editorial board adamantly opposed any further move by General Electric to dismantle its PCB-dredging operation on the Hudson River.
The Times-Union statement adds to the rising tide of editorial, voices insisting that GE hasn't yet met its obligations, and demanding that Gov. Andrew Cuomo and the state and federal EPA take a hard line on requiring it to do so.
The Times-Union editorial states:
"It makes no sense for the company to press so adamantly to quickly take down the millions of dollars in infrastructure it has been using to process the tainted soil being dredged from a 40-mile stretch of the Hudson between Fort Edward and Troy. Yet GE merely repeats the line that the company has fulfilled the requirements of a 2002 agreement with EPA to dredge PCBs, satisfying its commitment to the region where it long operated the Fort Edward factory that was the source of the PCB pollution.
"The claim that its job is done simply doesn't hold water."
On September 4, The New York Times issued its second forceful call to General Electric to complete cleanup of the Hudson River, which it contaminated with toxic PCBs over a period of three decades:  "Hudson River update, September 2015: The river is still contaminated and it's still General Electric's fault." – The New York Times, editorial, 09.04.2015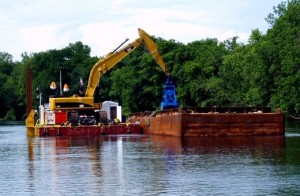 In the editorial, The Times directly called out Gov. Andrew Cuomo, who has been silent on the issue, to gear up the pressure on GE:
"New York State — that is, Gov. Andrew Cuomo — could insist that G.E. do right by the river. It could fight in court, and the court of public opinion, to demand payback. The state could dredge the canal itself, and send G.E. the bill.
Where is Mr. Cuomo on this? He has other things on his mind. He has been showing G.E. "a lot of love" as he tries to persuade the company to move its headquarters back to New York from Connecticut. It's the old game of corporate courtship, where companies play competitors off one another. Mr. Cuomo's argument is that G.E. has a ton of good jobs that the upstate economy desperately needs, and demanding anything of it will ruin the deal.
Mr. Cuomo could defend the upstate economy — the hundreds of dredging jobs that are about to go away, the commerce that would stir again if the Champlain Canal fully reopens, and all the fishing, boating and hunting that could rebound on a truly clean river — by standing up to one of his most generous corporate donors. He would be standing up, too, for the environment and for the river whose health G.E. badly damaged and has a duty to repair."
Send a message to Gov. Cuomo. Call Gov. Cuomo 518 474 8390
Send a message to GE chairman Jeffrey Immelt, jeffrey.immelt@ge.com.