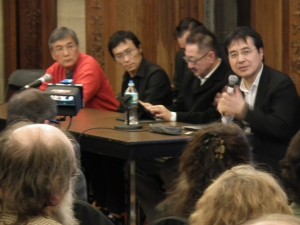 On Monday, March 5, Clearwater hosted a unique opportunity for emergency responders and the general public from the New York area to hear from visiting Japanese experts who lived and worked through the disaster discuss what they learned from their direct experience of Fukushima. In dialogue with them, a panel of US emergency preparedness experts and first responders also addressed how these lessons apply to Indian Point. This was a standing room event, and the discussion was followed by a question and answer session for the media and the public.
Photo: l-to-r: Dr. Tetsunari Iida, Dr. Yuki Tanaka, Mr. Noriyuki Kitajima, and Mr. Kazuhiko Amano.
For the latest on Clearwater's Indian Point campaign to prevent its relicensing, pease click here.
Media Coverage of the event:
From Japan, Bearing Witness in Debate Over Indian Point
By Jim Dwyer / New York Times / 3.6.2012
Noriyuki Kitajima stepped into the cold, clear morning air of Claremont Avenue in Morningside Heights, where he was staying on a visit from Japan. "One quick little cigarette," Mr. Kitajima, 45, said. The smokes, he reckoned, are an occupational hazard. Last March, unemployed and sitting in a Tokyo cafe with his girlfriend, Mr. Kitajima felt the shudders of an

Fukushima First Responders Issue Warnings About Perils of Indian Point
By Brian Merchant / TreeHugger / 3.6.2012
Last night, four Fukushima first-responders and eyewitnesses joined a panel of U.S. disaster preparedness experts at Manhattanville College in Purchase, NY. The Japanese experts had come to share knowledge gleaned from traumatic first-hand experiences with nuclear meltdown with representatives in Westchester County, near the controversial Indian Point nuclear power plant. Everyone in the room was quite aware that the anniversary of (the beginning of) the disaster at Fukushima is just a week away, and international attention is bound to be refocused on the perils of nuclear power. …