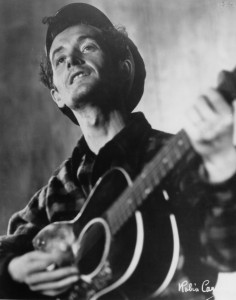 Clearwater, founded by Pete Seeger, presents its 2nd annual Earth Day Benefit Concert celebrating Woody Guthrie's 100th Birthday on Sunday, April 22 at 7:00 PM at the Tarrytown Music Hall in Westchester, NY. This very special evening features Janis Ian, Tom Paxton, The Klezmatics, Tom Chapin, Toshi Reagon, David Amram, Lucy Kaplansky, Garland Jeffreys, Cheryl Wheeler, plus more artists to be announced soon.
Pete Seeger and Woody Guthrie were close friends and musical collaborators who first met in New York at a benefit supporting California farm workers. Pete and Woody, along with Leadbelly, Burl Ives, Sonny Terry, Brownie McGhee, Josh White and others founded The Alamanc Singers in 1940, one of the first major folk music groups to organize and popularize protest music. Members of this group, including Pete, went on to found The Weavers, popularizing many of Woody's songs. During the McCarthy Era of the 1940's and early 1950's, Pete, Woody, and many other artists were blacklisted.  Ultimately, Pete and Woody have inspired generations of musicians including Bob Dylan, Joan Baez, Peter Paul & Mary, Judy Collins, Bruce Springsteen, Ben Harper, Billy Bragg, Jeff Tweedy, and many more. 
Artists performing at Clearwater's Earth Day benefit will perform selected Woody Guthrie songs, as well as their own. Tickets range in price from $48 – $125. A limited number of special sponsor packages are available. Proceeds benefit Clearwater's Environmental Education and Camp programs.
"Clearwater Sloop Sponsor" at $1,000 helps to sponsor a school group educational sail on the sloop Clearwater, includes a front row seat, access to soundcheck, dinner with the artists, a post concert reception and special Clearwater gifts.
"Clearwater Camper Sponsor" at $250 helps to sponsor a camper at Camp Clearwater, and includes a premium seat, post concert reception and special Clearwater gifts.
Tickets are now on sale at Tarrytown Music Hall and can be purchased at www.tarrytownmusichall.org  or 877-840-0457. Tarrytown Music Hall, located in Westchester County, is just 35 minutes north of New York City at 13 Main Street, Tarrytown, NY. The Music Hall is a short walk up the street from the Metro North train station.