Education Interns, Posts from April 20th, 2015
Gracie: It has been a whirlwind of activity on the Clearwater since I joined the crew at the beginning of April. We immediately started prepping the boat for the sailing season and the upcoming coast guard inspection. Between knocking off frost for morning deck wash and taking field trips to Norrie Point for seine netting, I've already learned so much about my floating home and the Hudson River. Once all the work has been done, all 12 crew members crowd around the cozy main cabin with a deck of cards, while someone strums a few cords on the boat's guitar.
I've only spent a few weeks on the Clearwater but I already know this will be an unforgettable experience. I recently graduated from the University of Vermont with a B.S. in Wildlife and Fisheries Biology. I am looking forward to this experience since biology is my passion and education is something new to me. I can already tell from the people I've met around the Hudson Valley and on Clearwater that this will be a truly incredible experience. By the end of my internship on Clearwater, I know I will have a place in my heart for the river that flows both ways.
…
Lucy: Finally, some time to sit down!  The past few weeks have been some of the busiest I've ever experienced…  But every sore muscle and lost minute of sleep has been repaid in full by countless moments of joy.  From waking up in laughter as our Boat Watch employed the tune "Smelly Cat" to drag our exhausted bodies from slumber, to watching a hardy young Hogchoker I had just rescued from the deck swim its way around our tank—I already know that this is one adventure I am more than happy to be on.
As a transplant to the Hudson River Valley from the San Francisco Bay Area, I've learned so much about this ancient, beautiful region; it seems that I'm constantly discovering new facts about its teeming ecosystems and rich human histories.  As I prepare for starting my masters program in Environmental Policy at Bard in the fall, I can't begin to express how valuable this experiential learning will be for my studies ahead.  Here's to the next few months of learning, growing, laughing, and living on the Good Sloop Clearwater!
###
­
Retrospective Posts, April 27th, 2015
Lucy: In the month preceding this "little adventure", I lost track of how many times people told me how difficult I was going to find this experience.  You see, in order to pay for the apartment I'm keeping during this time, I'm working my part-time gig in Kingston on my days off.  It's been weeks of straight WORK, and I'd be lying if I said that this isn't one of the most challenging things I've ever done. That being said, I've found myself waking up with a bigger smile and a lot more energy than I ever anticipated.
I was recently reminded of just how wholeheartedly I believe in the Clearwater as an organization during our lunch with Manna Jo Green from the office the other day. And the educational sails are a pure treat to be a part of.  Having professional background in a couple outdoor education/experiential learning programs in the past, it's easy to pick out some of the activities that make the Clearwater so unique.  Giving the students ownership of their learning environment by having them lift the sail at the very beginning of their onboard experience is priceless.  The traditional Moment of Silence ties students to the river, but also to each other; everyone who has sailed on the Good Sloop has looked out over the Hudson and …  There's something so very  special about that.
I imagine myself one day (several years from now, of course) sitting within the four walls of an office and contemplating my time on the Clearwater.  As exhausted as I tend to be in the tenth hour of my work day in the here and now, I doubt that this feeling will be what comes to mind.  Instead, I know I will celebrate how exhilarating this whole experience has been and will be.
…
Gracie: During a day off in Haverstraw,  I ran into a gentleman on a bike path. After mentioning I work for Clearwater he started talking exuberantly about his love for the Hudson River, Peter Seeger and his appreciation of Clearwater. On another day off while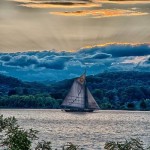 casting off the boat for a sunset sail around Beacon, a man wandered down the dock, staring at the Clearwater with a look of awe in his eyes. It turns out he was on the boat in 69' during the Clearwater's first sail, teaching some of the first education stations. He said seeing the Clearwater was almost spiritual for him.  On another occasion on a public sail, a woman stepped down the ladder and walked into the main cabin and placed a hand over her heart at the sight of a Peter Seeger painting. She said coming on the Clearwater brought tears to her eyes.
Old and new crew members have formed a long-lasting connection with the Clearwater. Returning volunteers come every year to wake up and swab the deck and sing Pete Seeger songs at night. Past cooks drop in for dinner and old Captains come back to work when needed. Whether they work on the Clearwater or live in the Hudson Valley, people seem to feel an everlasting connection to the legacy of Peter Seeger and the Clearwater.