Steve Stanne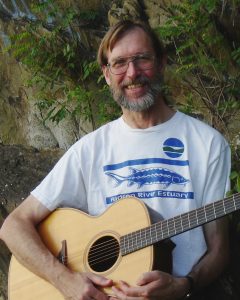 Steve Stanne has been teaching about the Hudson since 1980 when he stepped aboard Clearwater as education director, a position he held for 19 years. His time with the organization also included two stints as acting executive director. From 1999 until retirement in 2017 he was employed by Cornell University in partnership with NYSDEC to direct education efforts of the agency's Hudson River Estuary Program.
Over his career Steve designed signature river education programs including Clearwater's Classroom of the Waves and the Estuary Program's Day in the Life of the Hudson, as well as coordinating placement of the familiar blue and white sturgeon signs at highway crossings of Hudson River tributaries. He is the principal author of The Hudson: An Illustrated Guide to the Living River, published by the Rutgers University Press (a third edition is due out in 2020) and the Estuary Program's State of the Hudson reports in 2009 and 2015.
Steve is also a musician, performing with the Hudson River Sloop Singers while at Clearwater, and with the folk quintet Betty and the Baby Boomers, which earned the Hudson River Environmental Society's 2016 "Outstanding Environmental Communicator" award.