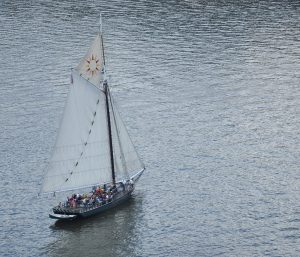 The Hudson River Sloop Clearwater is sailing to our nation's capital to deliver a message from our members and supporters- in the Hudson Valley and across the country- that we…
Stand for clean water and healthy rivers.
Cannot return to the days of dead rivers, choking air, and toxic waste.
Need federal agencies, like the EPA, that enforce the regulations that are protecting public health and safety.
Believe that environmental policy needs to be based on sound science.
Understand that climate change is a major threat to the ecology, the economy and the security of the nation and urgent action must be taken to address it.
Know that pollution is an environmental justice issue, often harming the most vulnerable communities among us the most.
Want a sustainable world for our children and for future generations.
All our waters are connected.  All our waters must be protected. 
---
Clearwater was founded under the guiding principles that clean water and healthy watersheds are essential to the health and well-being of America. An EPA leadership which prioritizes polluters' profit over the environment cannot fulfill its core mission to protect the public health.  Pollution doesn't stop at state borders and the federal government cannot abdicate its responsibility to protect our air and water.
We are sending a clear message to Washington that we will not stand for any threats to the environmental protections that have become part of our core American values.
The Clean Water Act
In 1970 Pete Seeger and the Clearwater crew sailed to Washington DC delivering thousands of petitions in support of the Clean Water Act to Congress.  This event is considered to be the tipping point in the passage of this landmark legislation. What began in 1972 with the passage of the Clean Water Act must continue as we celebrate the 45th anniversary of that legislation. Click here for a virtual tour of Clearwater's 1970 trip to Washington DC.
Once again, Clearwater will sail to our nation's capitol carrying a message from our members, supporters, and all those who have sailed with her, that we stand together for clean water – and look to our federal government to continue to protect our waterways.
The American people decided long ago that they don't want lead in their water, mercury in their fish and soot in their air.  Americans want clean air and water for themselves and their children.  
Many thanks to Clean Water Action for their support and collaboration on our visit to Washington.